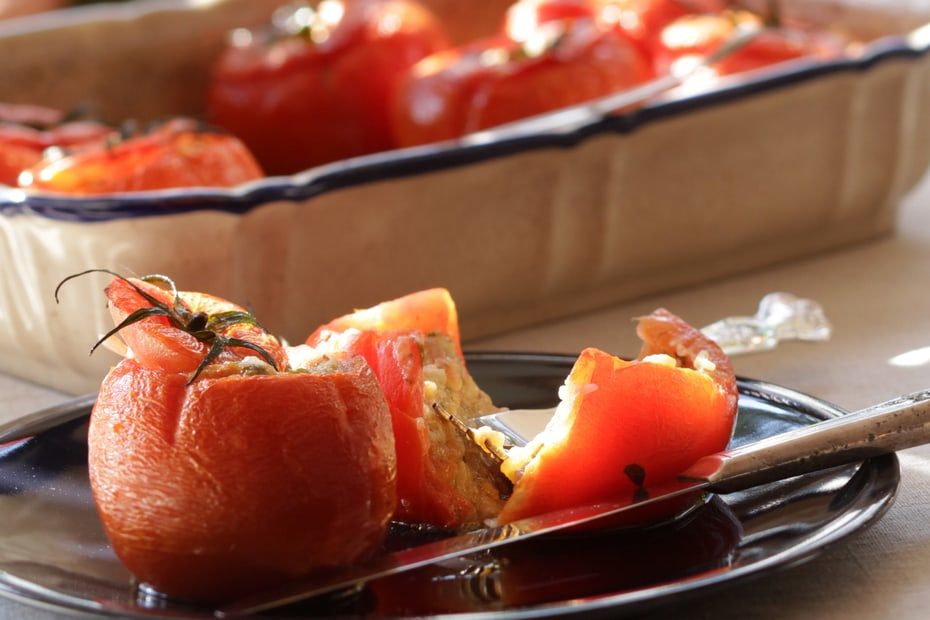 Tomatoes Stuffed with Trahana
---
Stuffed vegetables are always one of the most satisfying plant-based option. This Greek recipe calls for trahana, an ancient grain product that is one of the most beloved ingredients in the Greek kitchen.
Ingredients
1

bunch fresh mint

leaves only (about 2 cups, loosely packed)

¾

cup

feta

crumbled

12

large firm tomatoes

1

tsp.

sugar

3

Tbsp.

extra virgin Greek olive oil

1

large red onion

finely chopped

1

garlic clove

finely chopped

1

small fennel bulb

finely chopped (about 2/3 cup)

1

cup

sour trahana

1

cup

white wine

2

cups

chicken or vegetable stock

2

cups

of pulp from the tomatoes

¼

cup

chopped fresh dill

¼

cup

chopped fresh parsley
Instructions
In a blender, combine the mint, feta, and olive oil. Pulse on and off until creamy. Set aside.

Preheat oven to 350°F/180°C. Using a small, sharp paring knife, cut the stem ends off the tomatoes, and cut a tiny bit off the base so that the tomatoes can stand upright in a baking pan. Slice off the tops of the tomatoes approximately an inch (2,5 cm) below the stem, so that they can be hollowed out easily and their "caps" put back on. Reserve the tops. Using a small spoon or melon baller, carefully scoop out the tomato pulp without tearing through the skins. Place the pulp in a bowl. Season the tomatoes inside and out with a little salt and sugar and place upside down on a large plate to drain.

In a large nonstick skillet over medium heat, heat the olive oil and sauté the onion and fennel until soft, about 5 to 6 minutes. Add the garlic. Stir in the trahana and stir with a wooden spoon to coat in the oil. Pour in the wine. As soon as it steams up, pour in the stock. Lower heat and simmer the trahana until al dente and until it has absorbed the liquid. Remove from heat. Transfer the trahana mixture to the bowl with the tomato pulp. Add the herbs to the trahana and stir in the mint-feta cream, mixing well. Season to taste with salt and pepper. The filling should be fairly loose.

Lightly oil a baking dish large enough to fit the tomatoes upright in one layer. Preheat the oven to 350°F/180°C. Spoon the trahana filling into the tomatoes, leaving about half an inch at the top of each. Place upright in the pan and place their caps back on. Add ¼ cup water to the pan and bake, uncovered, for 50 to 55 minutes, until the trahana is cooked and the tomatoes tender. Remove, let cool, and serve, either warm or at room temperature.
Love vegetables? Want to learn more great plant-based Mediterranean dishes? Enroll in my online  class "Baked Vegetable Classics!"