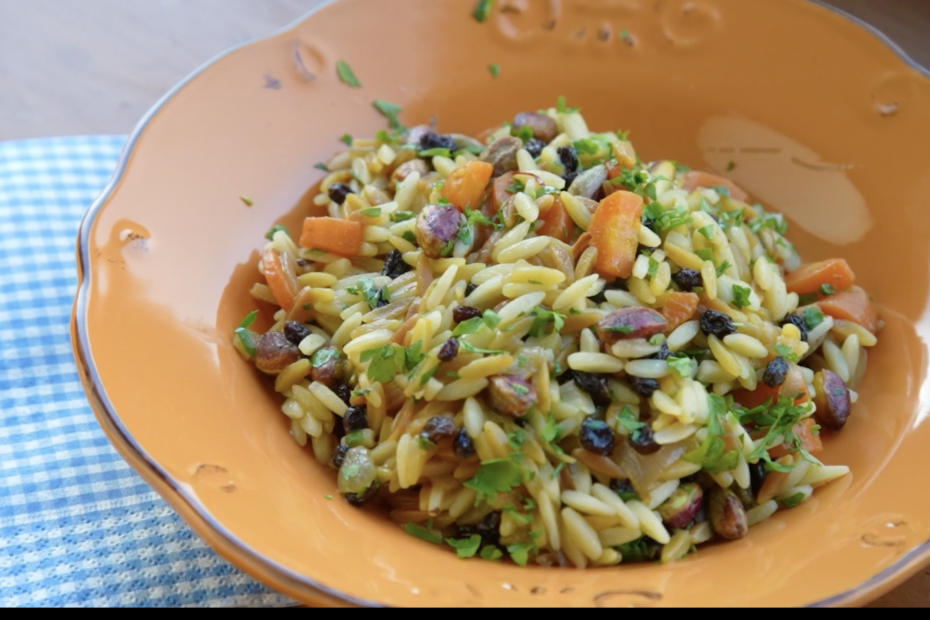 Toasted Orzo With Carrots, Raisins, And Pine Nuts
---
Orzo is an essential Mediterranean diet ingredient, at least in Greek cooking, and in Season 4 of My Greek Table, I use it to create this dish. We call it kritharaki, which means little barley, because of its shape, which resembles barley kernels. I serve this delicious Greek orzo recipe with a spiced roasted chicken. The orzo is cooked uniquely – not your typical boiled pasta with cheese and extra virgin Greek olive oil! It's toasted first, so it turns a beautiful amber color and gets nice and nutty. Adding so many aromatic Mediterranean diet ingredients and classic Greek foods like Aegina pistachios, Corinthian currants or Greek raisins, and Krokos Kozanis – Greek saffron – this simple pasta dish becomes something delectable. It's a perfect match for a great roasted chicken recipe but can just as easily be enjoyed on its own.
Ingredients
½

cup

Aegina pistachios shelled and toasted

or 2 tablespoons pine nuts, toasted

4

Tbsp

extra virgin Greek olive oil

1

large red or yellow onion

chopped

1

large carrot

peeled and diced

2

garlic cloves

minced

1 1/2

cups

orzo

divided

1

pinch

Greek Krokos

saffron

3

– 4 Tbsp Corinthian currants or seedless raisins

plumped in warm water

2

Tbsp

chopped fresh mint and/or parsley
Instructions
Toast the pine nuts or pistachios in a small dry skillet over medium heat and set aside.

Have 6 cups of hot water or vegetable broth simmering on the stove.

Heat half the olive oil in a large, deep frying pan over medium heat and cook the onion and carrot until soft, lightly browned, and glistening.

Stir in the garlic. Add half the orzo to the pan and continue to cook until the orzo starts to brown. Sprinkle the saffron into the toasting orzo and add 1 cup of hot water or broth. Stir. Add more water or broth in half-cup increments until the browned orzo is soft but al dente, about 7 minutes.

While cooking the vegetables and orzo, bring a medium pot of water to a boil. Add salt and boil the other half of the orzo. Drain, reserving 1 cup of its boiling liquid.

Add the boiled orzo to the toasted orzo mixture in the frying pan and stir together gently to combine. Stir in the nuts. Stir in raisins, adding some of their soaking liquid if desired. Stir in the mint and/or parsley and serve.
Want to learn more easy, healthy Mediterranean diet recipes? Sign up for my online course "Mastering the Mediterranean!"