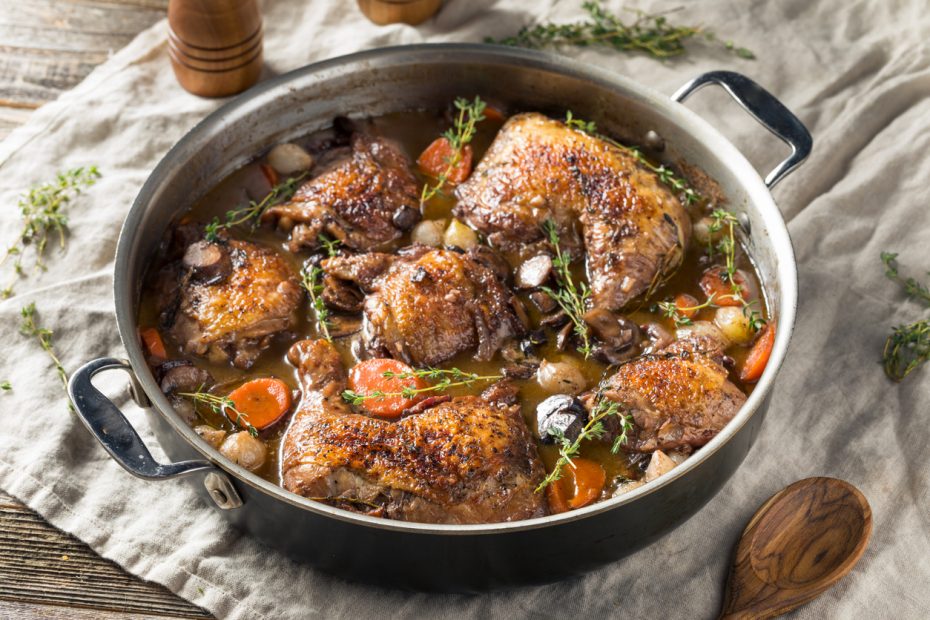 Rooster Braised in Wine, Kokoras Krasatos
---
Rooster is a much esteemed meat in the Mediterranean and in the Greek diet especially, where it is reserved for Sunday and festive meals. The most famous Greek recipe for rooster is Kokoras Krasatos, or Rooster Braised in Red Wine. Consider it the Greek version of Coq au Vin! It may be hard to find rooster in American markets, so go with a good-quality free-range chicken if necessary. Rooster meat is darker and has a richer flavor, but this can just as easily morph into a great Greek chicken recipe, replete with Greek red wine and some classic Mediterranean diet ingredients like fresh herbs. Choose a delicious Greek red wine to serve with this, like Xinomavro or Agiorghitiko.
Ingredients
1

rooster or large free-range chicken

about 4 pounds/1.8 kg, trimmed, cut into serving pieces, rinsed

2

cups

dry red wine

plus more as needed

2

carrots

peeled and cut into chunks or large pieces

2

– 3 tablespoons all-purpose flour

seasoned with a little salt and pepper

6

tablespoons

extra-virgin Greek olive oil

or more as needed

2

large red onions

finely chopped

1/2

cup

diced or cubed Greek cured pork

pasto or singlino or Canadian bacon or pancetta

3

garlic cloves

finely chopped

1

heaping tablespoon tomato paste

2

cups

peeled pearl or stewing onions

1

one-inch strip of orange zest

2

bay leaves

A few thyme sprigs

2

rosemary sprigs

2

cups

sliced button mushrooms

optional

1

teaspoon

dried Greek oregano

Salt and whole black peppercorns

1

pound

/450 g Greek egg noodles

hilopites

1

cup

grated Greek kefalotyri or other hard yellow cheese
Instructions
Marinate the rooster parts in the red wine for at least 2 hours or up to 8.

Remove from the marinade, reserve the marinade, and lightly dust the rooster parts with a little seasoned flour.

Heat 3 to 4 tablespoons of olive oil in a large pot over medium-high heat and brown the rooster, turning it with kitchen tongs to color on all sides. Remove and set aside.

Replenish the oil in the pan and add the cook onion, cooking it, stirring on occasion, over medium heat until it begins to turn golden, about 10 minutes. Stir in the cubes of cured pork or Canadian bacon or pancetta and stir until browned. Stir in the garlic.

Next, stir in the tomato paste. Add the browned rooster parts back to the pot, seasoning to taste with salt. Pour the marinade back into the pot, adding more wine as needed to come up just below the surface of the meat. Add the carrot, whole onions, orange zest, bay leaves, thyme, rosemary and black peppercorns.

Cover the pot, reduce heat, and simmer for about 2 hours, until the rooster or chicken is very tender and the meat practically falling off the bone. If using mushrooms, add them after the rooster or chicken has cooked for an hour or so, and is tender but not quite done. About 8 minutes before removing from heat, stir the dried oregano.

Serve the rooster with Greek noodles, called hilopites, and a generously grating of sharp cheese, such as Kefalotyri or dried myzithra.
Love chicken? Check out my online class "Wing It! – Great Mediterranean Chicken!"
Notes
NOTE: If you want to cook the noodles the old-fashioned way, remove the rooster pieces from the pot and set them aside tented with aluminum foil to keep warm. Add 6 cups of water to the pot, bring to a boil and add the noodles. Simmer according to package directions until the noodles are very tender. The noodles should absorb most of the liquid in the pot but should be slightly soupy. Toss with a little additional olive oil and transfer to a platter. Sprinkle generously with grated cheese. Place the bird parts in the center and serve. The rooster may also be served with mashed potatoes. You might want to try them with my feta-mashed potatoes, here!