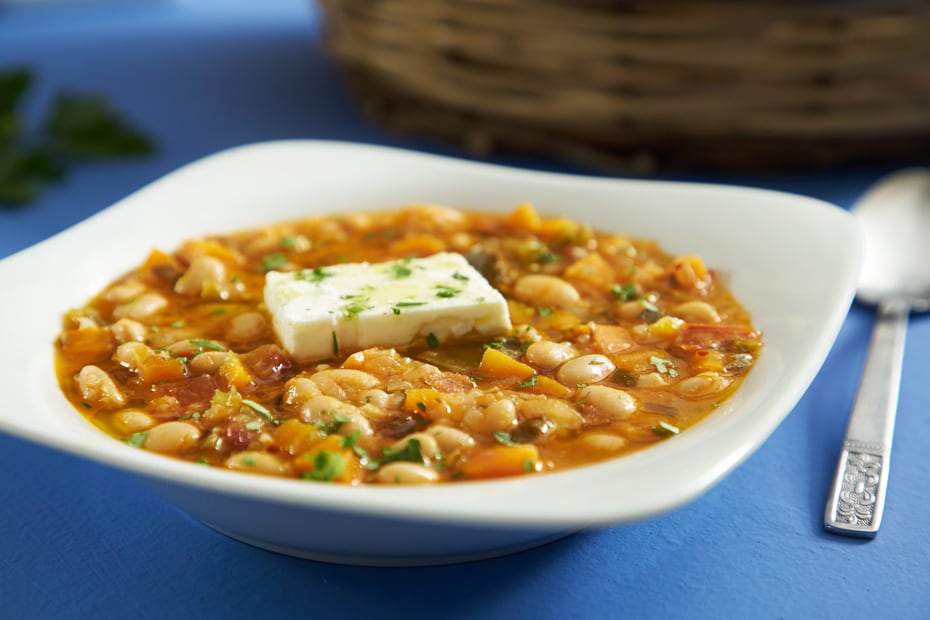 Template for a Classic Greek Bean Soup
---
Fasolada, the classic Greek bean soup, comes in many regional variations. In Western Crete, for example, a few strips of orange zest are sometimes added to the soup as it simmers. In the north of Greece, where the palate is spicier, fasolada is often seasoned with boukovo (hot pepper flakes), or a couple of hot chile peppers. Mint and hot pepper flakes together are another uniquely Northern Greek addition to the soup.
Greeks whose roots are in the Black Sea region add something called korkota, beautiful amber crystals of dried corn. A cup or two of browned, chopped sausage meat makes the soup heartier. Another option, and one I exercise quite a bit, is to run an immersion blender in the soup for a few seconds, pureeing just a bit of it in order to give the soup a creamy, dense texture. The choices are yours to make! Add a generous amount of additional olive oil when served, and accompany the bean soup with a side of feta and/or salted sardines.
Ingredients
1

pound/450 g medium-sized white dried beans

such as cannellini

2/3

cup

extra virgin Greek olive oil

divided

3

large red onions

peeled and finely chopped (about 3 cups)

3

medium-sized carrots

3

celery stalks or 1 ½ cups chopped wild celery

with leaves

3

garlic cloves

finely chopped

2

bay leaves

2

cups

chopped canned plum tomatoes and their juices

2 1-

inch

2.5-cm strips orange zest

2

bay leaves

2

long

dried chile peppers, whole

6 to 8

cups

water

3

tablespoons

balsamic vinegar

½

cup

chopped fresh flat-leaf parsley
Choice of Additions:
1

chop diced

browned sausage meat

½

cup

dried corn

½ to 1

cup

small pasta

such as Greek kouskousaki or little stars
Accompaniments:
6 to 8

salted sardines

as an accompaniment

4 to 6

ounces

Greek feta

as an accompaniment
Instructions
Soak the beans overnight. The next day, rinse and drain them.

Heat 1/3 cup of olive oil in a large pot over low heat and cook the onions, carrots and celery together until softened, about 12 minutes. Stir in the garlic. Add the beans and toss to coat in the oil. Pour in the tomatoes, orange zest, bay leaves and water. Raise the heat and bring to a boil. Reduce heat to low and let the beans simmer, skimming the top, for about two hours, or until the soup is thick and creamy and the beans and vegetables very soft.

(If desired, about half way through cooking the bean soup, add either the dried corn or pasta.)

About 10 minutes before removing from heat, season with salt and pepper.

If desired, using an immersion blender, puree a little bit of the soup (about 2 cups out of the entire pot), to make thicker and creamier. Add the balsamic, and stir in the parsley.

As soon as you remove the fasolada from the heat, pour in the remaining olive oil.

Serve hot, with a couple of sardines and a little feta sprinkled in each plate or on the side.
Want to learn more easy, healthy Mediterranean diet recipes? Sign up for my online course "Mastering the Mediterranean!"
Love soup? Check out my online class "Comfort in a Soup Bowl!"