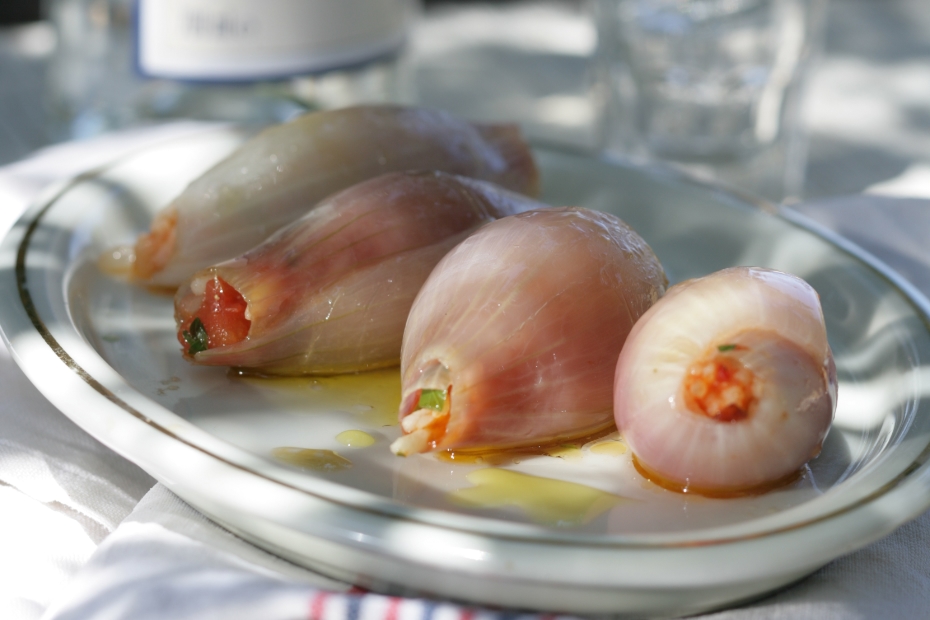 Stuffed Onions ("Salantourmasi") from Kastelorizo
---
Onions stuffed with a mixture of rice and tomatoes is found in several varitions in different parts of Greece, from Galaxidi to Lesvos to the southernmost Dodecanese island of Kastelorizo, where this recipe is from. It's one of my favorites because it speaks tomes for how simple cooks manage to take the simplest ingredients and turn them into something ingenious, extraordinary and delicious. Make these delicate stuffed onions even tastier with the addition of authentic, carefully curated Greek olive oils and other ingredients, on my online store
here
.
Ingredients
2

lbs.

/ 1 k onions

3

tbsp

extra virgin Greek olive oil

2

large onions

chopped

1 ½

cup

long-grain white rice

1 ½

cup

grated tomatoes

1

cup

fresh mint

chopped

½

cup

fresh parsley

chopped

½

tsp

cumin powder

Salt and pepper

to taste
Instructions
1. Peel the onions. Using a sharp paring knife, score the onions lengthwise.

2. Bring a large pot full of water to a boil and blanch the onions for 2-4 minutes until softened. Remove with a slotted spoon. When cool enough to handle, hold one onion at a time and peel away the outer layers, one by one. Chop the inner core and set aside to use in the filling.

2. Heat 3 tablespoons olive oil in a large, heavy skillet and sauté the chopped, raw onions until softened. Add the blanched, chopped cores. Stir in the rice. Add ½ cup water. Cook over low heat until all liquids are absorbed. Stir in the tomatoes. Cook over low heat until liquid is absorbed. Remove from heat and stir in the herbs, cumin, and salt and pepper.

3. Spread a few tablespoons of olive oil on the bottom of a large pot. Spoon one teaspoon of the filling at a time into each onion layer. Roll lengthwise and overlap the outer rim to secure closed. Continue until all ingredients are used. Arrange the onions tightly side by side inside the pot. Add a second layer, if needed. Add enough water to come half way up the onions. Place a plate over the onions to keep them from opening up. Cover and cook over medium-low heat until the rice is cooked. Remove from heat, let cool, and serve.
Love vegetables? Want to learn more great plant-based Mediterranean dishes? Enroll in my online  class "Baked Vegetable Classics!"