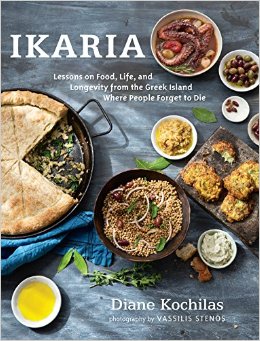 As a vegetarian/pescetarian, Greek food has long appealed to me. Two of my favorite Greek cookbooks are "The Greek Vegetarian" and "Meze, Small Plates to Savor and Share" both by Greek-American cookbook author Diane Kochilas. Kochilas has written nearly 20 books on Greek and Mediterranean cuisine and is a collaborating chef at Molyvos in New York. Her cooking philosophy is rooted in the tenets of the Greek-Mediterranean Diet: keep it simple, respect seasonality, use ingredients that have integrity and are easy to find, eat lots of greens and vegetables, share, and finally, the golden rule – Nothing in Excess.
So I was super-excited to see that Kochilas had a new cookbook coming out that focuses on the cuisine of Ikaria, her ancestral homeland and the location of her cooking school Glorious Greek Kitchen. Kochilas has devoted her life to promoting the natural, healthy and delicious foods of Greece.. Her new book "Ikaria: Lessons on Food, Life, and Longevity from the Greek Island Where People Forget to Die" chronicles the wisdom and food traditions of generations of Ikarians. More than just a collection of excellent recipes, this is a unique glimpse into an island where time seems to stand still and the worries and stresses of modern life melt away.
Ikaria is one of the world's Blue Zones, a place where inhabitants reach age 100 at rates 10 times greater than in the United States. The organic, unprocessed diet of Ikarians, as well as regular physical activity, laid-back attitude, and arguably nonexistent relationship with time (shops around the island read "Clocks, Anxiety and Stress Have No Place on Ikaria") are likely all contributing factors. Kochilas' interviews with Ikaria's octogenarians and above reveal a positive attitude and joy for life that we can all learn from.
After an introduction explaining the Blue Zones, The Ikaria Study and the rhythms of traditional Ikarian life, the delicious recipes begin. In keeping with the unprocessed foods of Ikaria, most recipes call for only a handful of ingredients. There are instructions for making homemade goat cheese, homemade phyllo dough, and for drying vegetables for preservation. The chapter on salads features a very thorough lexicon of edible greens and wild herbs, including medicinal uses. Along the way, sidebars provide more in-depth info on particular ingredients, techniques, and local festivals.
Not surprisingly, vegetables play a starring role in this book. An entire chapter devoted to using vegetables as a main course includes baked, stewed, braised, and stuffed veggies that will give you plenty of creative ideas for how to make the most of the season's bounty. One of my favorite discoveries was a delicious variation on stuffed grape leaves using collard greens and dried corn. The chapter on savory pies and breads includes a recipe for homemade phyllo, spanakopita and stuffed pies, fried hand pies, and skillet puffs and griddle pies.
Ikarians are blessed with an abundance of fish and seafood, which is integral to the Ikarian diet. Small fish are fried, while large fish are generally grilled, baked, or made into soup. Meat is "consumed regularly but sparingly, more as a condiment than as a main-course protein," according to the author. Goat meat is the most popular meat on Ikaria, and you'll find several wonderful, unfussy preparations here including baby goat braised with fennel, oregano-roasted goat, and baby goat with yogurt avgolemono that are the perfect introduction to this versatile staple.
In addition to making several of the mezedes (including the whipped feta spread), I loved the lentil salad with fennel, onions, and lots of herbs; the touch of mint and dill gave an unexpected brightness to the lentils. I opted for a lemon-infused olive oil as I thought it would pair well with the fresh herbs (many of the legume recipes in the book call for a splash of lemon juice). I absolutely adored the baked zucchini fritters with oregano and mint and appreciated that several of the fried recipes also included lighter baked alternatives.As a sweet finale, I baked the spice cake for the revealing saint (fanouropita) in a decorative Bundt pan — it makes the perfect afternoon treat with a cup of Greek coffee.
Sprinkled throughout the book are gorgeous portraits of Ikaria's landscape and architecture, Ikarians engaged in daily activities and festivals, and mouthwatering food photography. The book is rounded out with resources, including a bilingual Greek/English bibliography, and a very handy metric conversion chart that also features pan sizes. Recipe names are given in English and transliterated Greek.
This is a fabulous addition to your Mediterranean cookbook library and a wonderful introduction to regional Greek cooking. We can all stand to learn a thing or two about eating and living well from Ikaria!
Source: http://www.mediterraneanliving.com