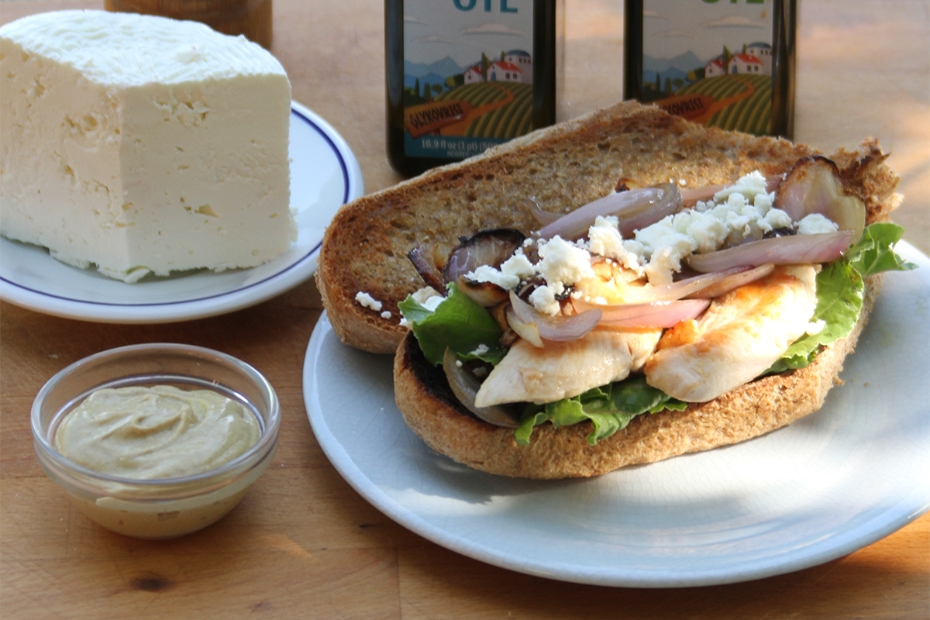 Spartan Grilled Chicken Melt with Olive Oil and Mustard
---
What happens when you combine a very traditional recipe for chicken in onion-feta sauce from Sparta, Greece, with the lunchtime favorite, tuna melt? Sparta chicken melt, with Vrisi 36 olive oils and Peloponnese mustard. Yum.To find some of the artisinal Greek products you'll need to make this, visit my online shop, where you'll discover a host of lovingly curated Greek ingredients.
Ingredients
2

large boneless chicken breasts

trimmed and halved

3

tablespoons

Vrisi 36 oregano essence olive oil

2

tablespoons

Vrisi 36 tomato

basil,olive-paste mustard

1

tablespoon

Vrisi 36 Greek balsamic vinegar

Ground black pepper to taste

2

large red onions

halved and sliced

6

tablespoons

Vrisi 36 Bold

Delicate, or Organic extra virgin Greek olive oil

1

cup

crumbled Greek feta

1

small bunch arugula

baby Swiss chard or spinach, or kale

Whole grain baguettes

ciabatta or other good bread of choice
Instructions
Whisk together the oregano essence Vrisi 36 olive oil, mustard, balsamic and black pepper. Marinate the chicken breast strips in this mixture, covered and refrigerated, for 15 minutes or up to an hour. Remove.

In a nonstick frying pan over medium-low heat, warm one tablespoon of Vrisi 36 olive oil and cook the onions, slowly, for about 20 minutes, until golden. Add a tablespoon of balsamic to the onions about halfway through cooking. You can prepare the onions a day ahead and store in the refrigerator.

Preheat the broiler.

Cook the chicken either by broiling or sautéeing. If broiling: Place the chicken in an oiled shallow pan. Place 8 inches / 20 cm from heat source. Broil, turning once, until lightly golden. Remove. If sautéing: Warm a sauté pan or nonstick frying pan over medium flame and add a tablespoon of olive oil to it. Sauté the chicken, turning once, until golden on all sides and cooked through. Remove and set aside, tented, to keep warm.

Assemble the sandwiches: Brush both sides of each piece of bread with Vrisi36 oregano essence olive oil and broil for a few seconds until golden brown. Remove. Spread a little mustard on the bottom slice of bread if desired. Place the greens on the bottom, then the chicken, caramelized onions and crumbled feta. Place the sandwiches, open-faced, under the broiler for a few seconds, just until the feta begins to melt. Remove and serve.
Love chicken? Check out my online class "Wing It! – Great Mediterranean Chicken!"