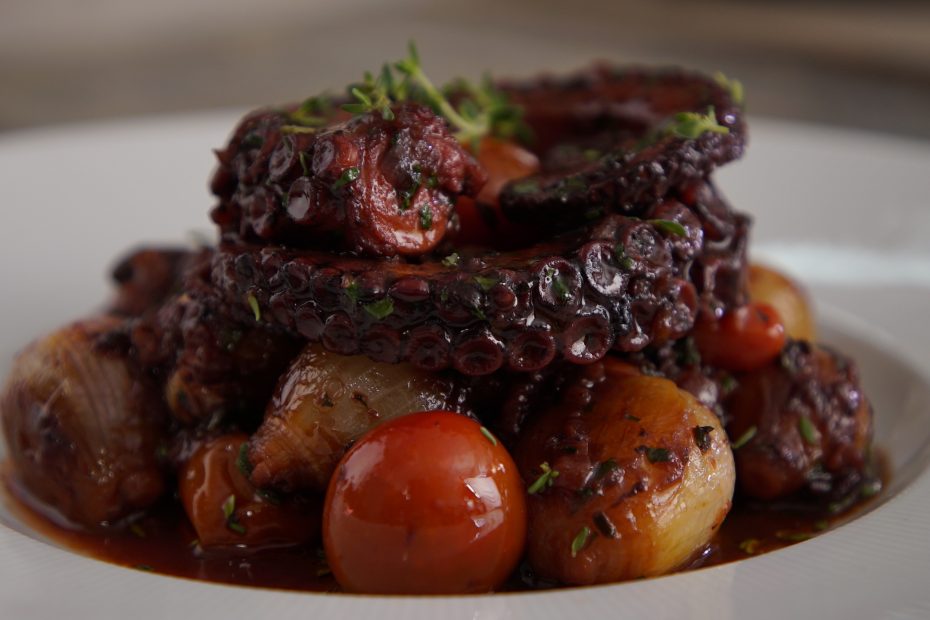 Braised Octopus with Olives
---
We all know grilled octopus, one of the cliché images of Greek summer, albeit delicious, and a classic on Greek menus all over the world. But the braised octopus dishes of Greece are equally enthralling and this is one of my absolute favorites, sweeted with a little grape molasses and studded with tangy olives. To find some of the artisinal Greek products you'll need to make this, visit my online shop
here
, where you'll discover a host of lovingly curated Greek ingredients.
Ingredients
2

pounds

stewing onions

stifado onions in Greek

4

pounds

octopus

6

tablespoons

extra virgin Greek olive oil

plus extra to drizzle as garnish

1

medium red onion

very finely chopped

1

medium fennel bulb

very finely chopped

4

garlic cloves

minced and divided

3

bay leaves

1

star anise

½

teaspoon

black peppercorns

5

thyme sprigs

½

cup

white wine

1

tablespoon

good quality tomato paste

2

cups

whole teardrop or cherry tomatoes

stems removed

1

teaspoon

chopped fresh thyme

¼

cup

ouzo

2

tablespoons

balsamic

1

tablespoon

Greek honey or petimezi

grape molasses

1 ½

cups

pitted Greek whole black or green olives

rinsed

½

cup

fresh parsley
Instructions
Peel the stewing onions and set aside: Bring a pot of water to a rolling boil and blanch the onions for 2 minutes. Remove and place in a bowl of ice water. Using a paring knife, cut off their root ends. Pinch each onion to remove the skin, which will slip off very easily. Set aside.

Clean the octopus: Cut off the head/sac just below the eyes and using a sharp paring knife, dig out the beak and discard. (You can clean the inside of head by turning it inside out and removing the viscera while running it under cold water. I like to use it either by slicing it and cooking it together with the octopus, or by slicing, sautéeing separately, and mincing it for use in octopus keftedes.) Cut the remaining octopus into tentacles and set aside refrigerated until ready to use.

In a wide pot over medium heat, warm 3 tablespoons of olive oil. Reduce heat to low, add the chopped onions and fennel and sauté until very soft and just on the verge of starting to brown, about 10 to 12 minutes. Stir in half the garlic. Add the octopus tentacles, star anise, bay leaves, black peppercorns, and thyme sprigs. Cover and cook over low heat for about 30 minutes, or until the octopus turns deep pink and has exuded its liquid. Add the white wine. In about 5 minutes, when the alcohol cooks off, add the tomato paste. Continue cooking the octopus until tender but not stringy, about another 15 to 25 minutes.

While to octopus is simmering, prepare the stewing onions and tomatoes. In a large, deep, preferably nonstick frying pan, heat the remaining olive oil over medium heat and add the peeled stewing onions. Sprinkle lightly with salt. Cook slowly, shaking the pan back and forth every few minutes, until the onions turn light amber in color. Add the whole tomatoes to the pan and raise heat to medium-high. Adjust seasoning with salt and pepper. Add the remaining garlic and chopped thyme. Shake back and forth in the pan until the tomato skins wrinkle. Add the ouzo, balsamic and honey or petimezi and continue to cook another minute or two, until the tomatoes start to brown. Toss in the olives and shake to combine.

About seven minutes before removing the octopus from heat, add the stewing onion-tomato-olive mixture. Stir in the fresh parsley. Stir very gently to combine. Remove from heat and serve.