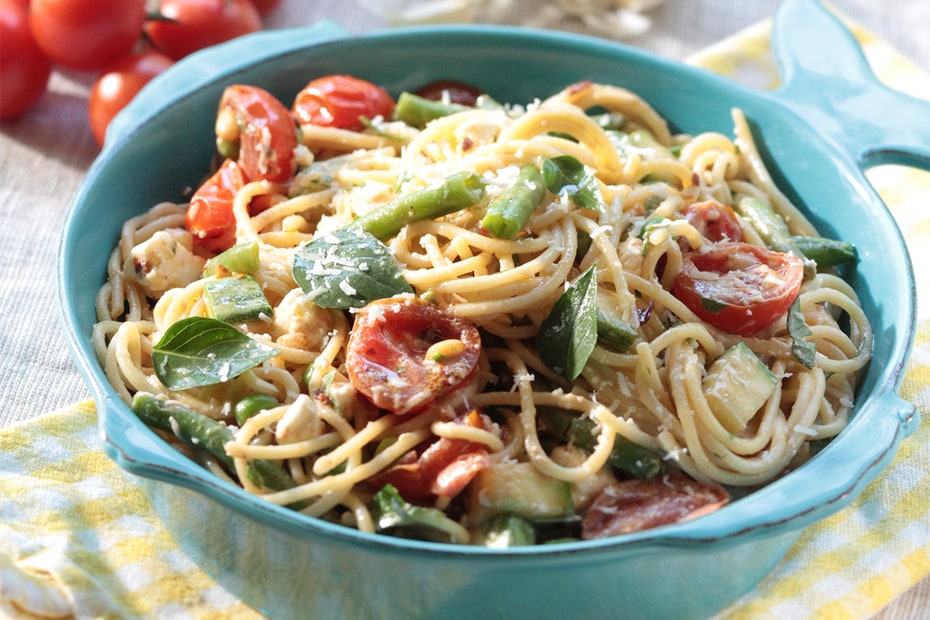 Spaghetti Primavera with Feta
---
There are so many choices now when it comes to pasta, that after a weight-watching hiatus I'm slowly starting to add it back to my diet, albeit in small quantities. Here is one of my favorite, easy Greek recipes for plant-forward, vegetarian pasta. I season my Greek primavera with wild Greek herbs and sea salt, which you can find online, and with chunks of tangy Greek feta. Don't forget to drizzle in a generous amount of soul-satisfying extra-virgin Greek olive oil, too!
Ingredients
3

tablespoons

Extra Virgin Greek olive oil

plus more for tossing with pasta

1

red onion

finely chopped

½

pound

fresh green beans

trimmed and coarsely chopped

2

large zucchini

trimmed and cut into 1-inch dice

3

garlic cloves

finely chopped

1

pound

cherry or teardrop tomatoes

stems removed, washed and dried

Greek sea salt

to taste

2

teaspoons

wild Greek oregano or savory

1

bunch fresh basil

stems removed, julienned

Freshly ground black pepper

to taste

1

pound

spaghetti

whole wheat spaghetti, or chickpea spaghetti

½

pound

Greek feta

crumbled or cubed

½ - 2/3

cup

grated Greek kefalotyri or kefalograviera cheese

or other grating cheese, such as parmesan or romano
Instructions
Place a large pot of water on high heat to boil. Start the sauce, below. When the water boils, add a generous amount of salt or Greek sea salt and cook the spaghetti until al dente. Drain, saving about a cup of the pasta liquid, and toss with 2 – 4 tablespoons of extra virgin Greek olive oil.

As the water, then pasta, cook: In a large, wide skillet over medium heat, heat the olive oil and cook the onion for 8 – 10 minutes, stirring occasionally, until soft and very lightly colored.

Add the fresh beans and cook, stirring, over medium-high heat, until they turn bright green and glisten with the oil. Add the zucchini, toss in the pan, and cook, stirring, until al dente. Gently stir in the garlic.

Add the cherry tomatoes, raise the heat, and toss in the pan either using a wooden spoon or by shaking the pan back and forth, until the skins begin to burst with the heat. Season with Greek sea salt, wild oregano or savory, and black pepper.

Add the primavera topping to the spaghetti in the pan. Add the basil, feta and grated cheese and toss gently. Add a little of the pasta water if you want to make the spaghetti a bit juicier. Serve immediately.