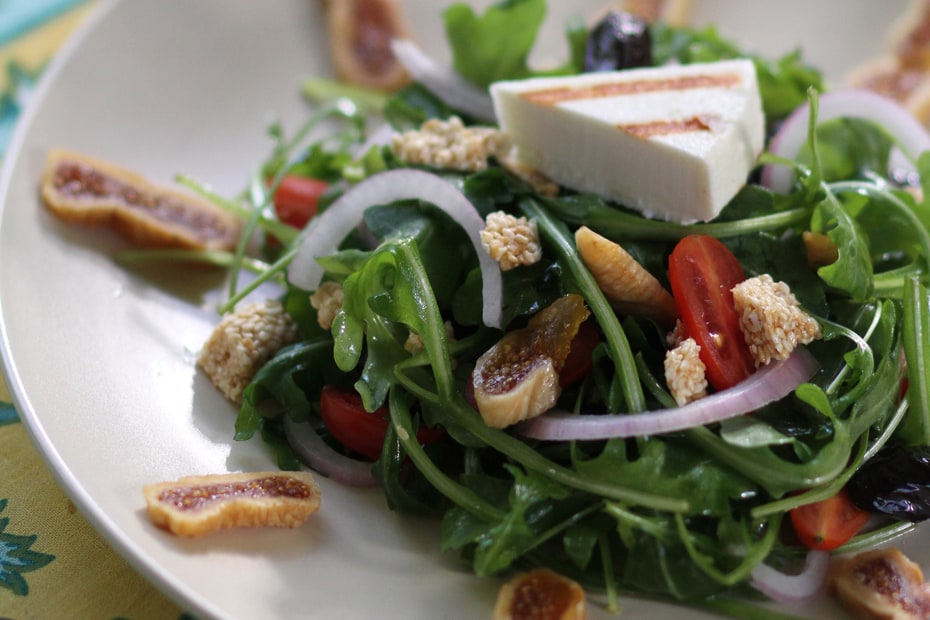 Arugula Salad with Dried Kalamata Figs, Wrinkled Olives and Pasteli
---
Ingredients
For the Lemon-Honey Vinaigrette
Instructions
Trim and wash the arugula and spin dry in a salad spinner. Place in a mixing bowl together with the onions, figs, pasteli, olives, and tomatoes.

Whisk together all the ingredients for the dressing.

Toss the salad with the dressing and place in a large salad bowl. Adjust seasoning with additional salt and pepper, if desired.

Heat a ribbed nonstick griddle pan and add the olive oil, tilting so that it is evenly distributed over the surface. Place the cheese round carefully on the surface of the hot pan. Sear it for a minute or two, and turn carefully, using a spatula, to sear nicely on the other side as well. Place over the salad in the bowl, or transfer to a cutting board and cut into four or six wedges and place one wedge each onto the serving plates. Serve immediately.