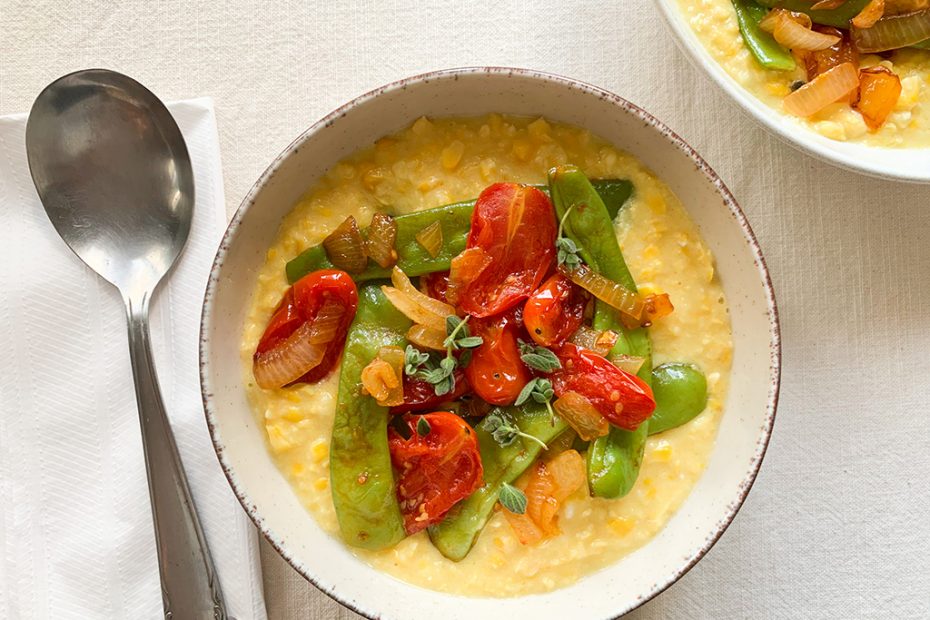 Green Beans and Tomatoes, with Fresh Corn-Feta Polenta
---
This Greek salad recipe is inspired by a classic Greek summer vegetable stew. On the Blue Zone Aegean island of Ikaria this vegetarian recipe is called mageirio. Elsewhere in Greece it is known as tourlou. I've taken the basic ingredients of green beans, tomatoes, onions, garlic and corn and transformed them into something lighter and more elegant, perfect for a hot summer night with or without company!
Ingredients
For the Green Beans
1

pound

fresh green beans

trimmed

4

tablespoons

extra virgin Greek olive oil

2

red onions

chopped

2

garlic cloves

finely chopped

2 ½

cups

cherry

teardrop or small fresh pomodoro tomatoes, halved

2

tablespoons

fresh oregano leaves

chopped, or 2 teaspoons wild dried Greek oregano
For the Polenta
6

ears of corn

2

cups

water

1

tablespoon

butter

diced

3

tablespoons

extra virgin Greek olive oil

½

pound

Greek feta

crumbled

1/4

teaspoon

salt

1

pinch

Black pepper
Instructions
Make the polenta first:
Trim the corn and cut off one end so that you can stand it upright. Using a sharp paring knife, moving from top to bottom, shave off the kernels. Place the kernels in a medium saucepan with enough water to barely cover, about 2 cups. Bring to a boil, covered, and reduce heat to simmer for for about 10 – 12 minutes, until the kernels are soft. Drain and reserve the corn cooking liquid.

Place the kernels in a food processor and pulse on and off to break the kernels without turning them into a completely smooth paste. You want some texture! Add a tablespoon or two of the cooking liquid if necessary, to keep the mixture moist.

Return the coarsely pureed kernels to the saucepan and add about 2/3 of the cooking liquid back in. Simmer over low heat for about 12 to 15 minutes, until the mixture thickens to the consistency of mashed potatoes and starts to sputter. If there is a lot of liquid left, continue simmering until most of it is cooked off. Stir in the butter, 3 tablespoons of olive oil, feta and salt and continue cooking over low heat, stirring with a whisk, until the polenta is thick and creamy.
While the polenta cooks, make the green beans:
Place the green beans in a steamer basket and steam for about 7 minutes, until tender but al dente. Drain and rinse in cold water.

In a medium frying pan over medium heat, warm 2 of the 4 tablespoons of olive oil and cook the onion until soft, about 8 minutes. Stir in the garlic. Add the tomatoes, raise the heat, and shuffle the frying pan over the heat vigorously to release the tomato juices a little without breaking them completely. Season with salt and set aside.

To serve: Spread the warm polenta onto serving plates or a platter. Add the green beans to the tomato mixture and shuffle back and forth over medium heat for a minutes, just to lightly warm through. Taste for salt and toss with oregano. Serve the green beans over the polenta and drizzle any remaining olive oil on top.
Want to learn more about Ikaria Longevity Cooking? Sign up for my online class bundle "Everything Ikaria 101!"