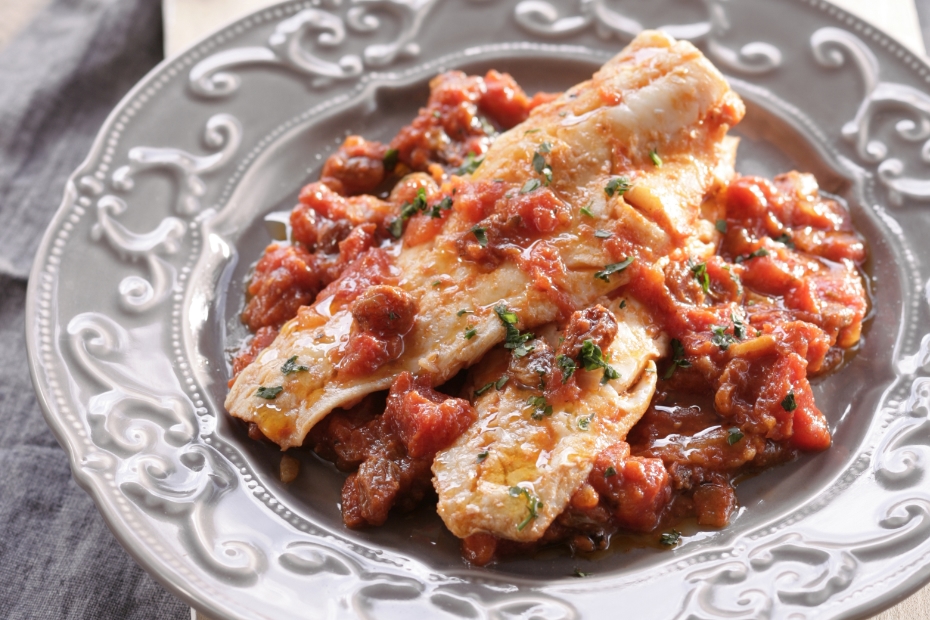 Salt Cod "Plaki" in a Pot
---
So long as you a lot yourself two days to desalt the cod, this recipe then becomes a cinch to make. This is a great, easy dish for midweek and weekends alike. Salt cod is one of the most popular dishes in Greece even though cod is not native to the Aegean. Use Greek olive oil and tomatoes, which you can find by going to my online store
here
.
Ingredients
1

large saltcod fillet

about 1 1.2 – 2 pounds / 750 g – 1 kilo

½ -2 / 3

cup

extra virgin Greek olive oil

3

medium onions

chopped

3

cloves

garlic

peeled and coarsely chopped

1 ½

cup

canned chopped plum tomatoes

2

tbsp

tomato past

e

dissolved in ¼ cup water

1

cup

Greek currants or dark seedless raisins

1

cinnamon stick

6-8

whole cloves

5-6

grains allspice

Freshly ground black pepper
Instructions
Soak the salted cod in ample water for 2 days, changing the water every 6 hours or so. Remove and cut into large pieces, about 2 ½ inches / 6 cm square.

In a large skillet heat oil over medium heat and sauté the onions, stirring constantly until wilted, about 10 minutes. Add the tomatoes, bring to a boil, reduce heat and add the tomato paste, raisins and spices. Simmer, covered, for 15-20 minutes or until the onions are very soft.

Place the fish on top, cover the pot and simmer for 12 – 15 minutes, or until the fish is fork tender. Serve immediately.