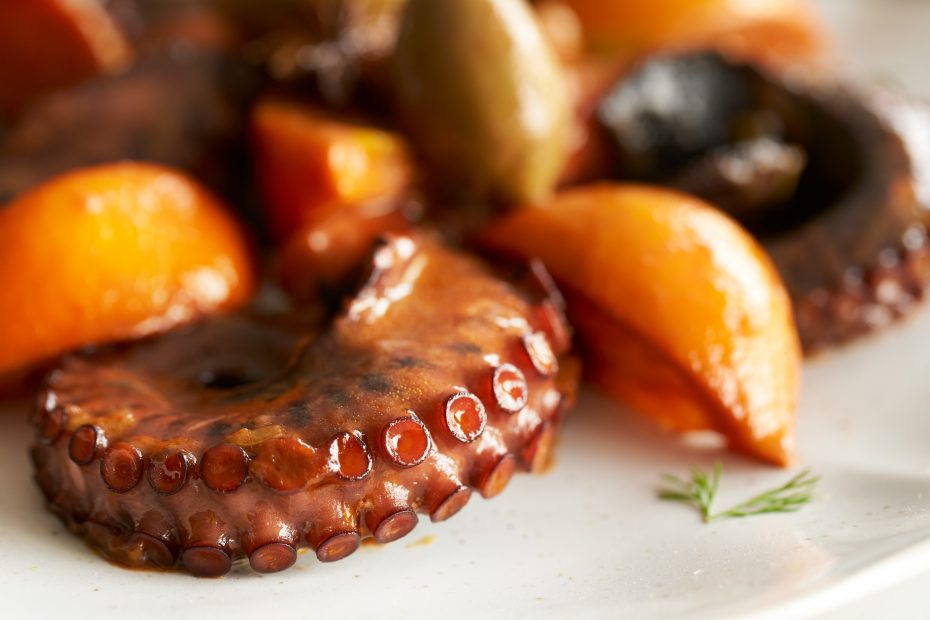 Octopus With Orange And Olives
---
This recipe for octopus with orange and olives is always a winner. I serve it on special occasions. Most people who enjoy octopus are used to eating it grilled. But braised, as in this recipe, it's delicious. You can pair it with green or black Greek olives. The ouzo and orange are a great flavor combination with this most beloved Greek seafood.
Ingredients
1

medium-size octopus

2-2 ½ pounds/1 -1.35 kilos

½

cup/120 ml olive oil

or slightly more if desired

2

leeks

washed and trimmed

1

large red onion

chopped

2

garlic cloves

chopped

1

large orange

2

bay leaves

2

star anise pods

½

cup

ouzo

½

Tbsp

tomato paste

10

pitted green olives

rinsed thoroughly

½

cup

dill fonts
Instructions
Wash octopus and cut away ink sac and mouth. Cut into 8 pieces, along the tentacles. Set aside.

Chop the leeks into half circles.

Heat 2 tablespoons of olive oil in a large heavy pot over medium heat and cook the leeks, onion, and garlic, stirring, until wilted, about 5 minutes. Add the octopus. Cook, covered, over low heat until the octopus discards its juices and is bright pink and tender about 30 minutes. Check occasionally to be sure it doesn't burn, adding a little water if there is no liquid in the pot.

Cut the orange into 8 wedges.

Add bay leaves and star anise into the pot with the octopus. Squeeze the orange wedges into the pot and add them to the pot. Pour in the ouzo and dilute the tomato paste into the liquid. Cover and simmer over low heat for another 45 to 50 minutes, or as needed, until the octopus is tender but not stringy. Check during cooking to be sure there's ample liquid in the pot, and add water, if necessary. About 5 minutes before removing the octopus from heat, add green olives, season with black pepper and top with dill fronds.