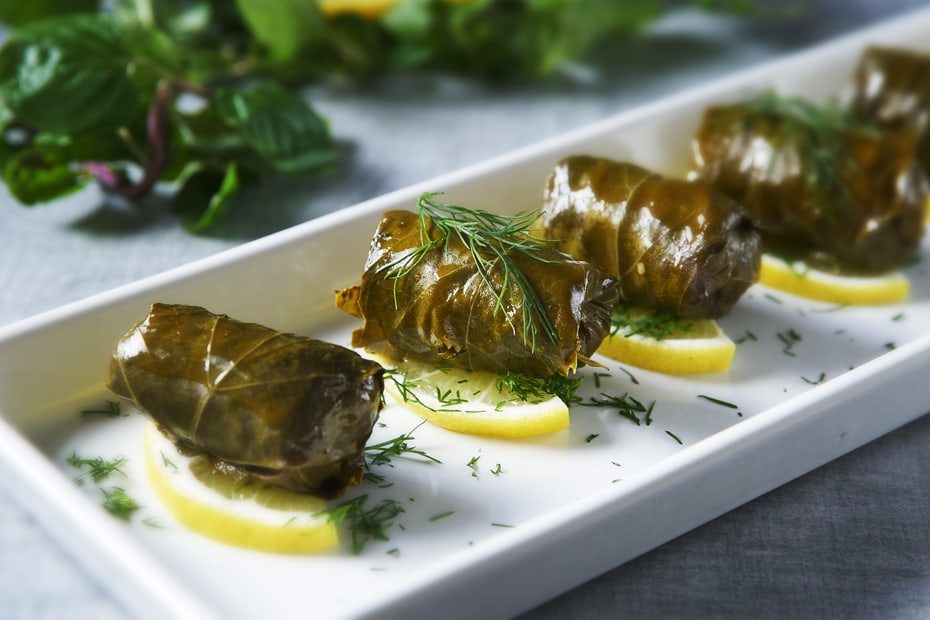 Roditikoi Dolmades - Grape Leaves Stuffed with Bulgur & Cumin
---
The classic Greek recipe, stuffed grape leaves are a specialty of Rhodes and there are so many different versions that once a year the island hosts a stuffed grape leaf cooking contest! Greek stuffed grape leaves, called dolmades, can be served as a Greek meze or as a main course. You can even add them as garnish to a classic Greek salad.
Ingredients
1 1/2

cups

bulgur wheat

4

cups

finely chopped red onion

3

large ripe tomatoes

grated 1/2 cup extra-virgin olive oil

2

heaping teaspoons ground cumin

l

cup snipped fresh dill

1/2

cup

chopped fresh mint

One 10-ounce jar grape leaves in brine

Juice of 1 large lemon

plus more to taste
Instructions
Combine the cracked wheat, onion, tomatoes, and olive oil in a large bowl. Season with salt, pepper, and the cumin. Cover and let rest for 2 hours, then míx in the dill and mint.

While the wheat mixture is resting, drain the grape leaves and rinse well in a colander. Bring a large pot of water to a rolling boil and blanch the grape leaves, in batches if necessary, for 4 to 5 minutes. Drain and immediately rinse under cold running water. Trim the tough stems off the leaves and set aside the ones that are either very small or torn.

Place the grape leaves, shiny side down, in rows on a large table. Place the ripped or very small ones on the bottom of a large pot. Place a heaping teaspoon of filling in the bottom center of each leaf on the table. Fold the bottom over the filling, then fold the sides over it and roll up, tucking the sides in as you go. Place the grape leaves seam side down in the pot, snugly next to each other, in layers. Pour the lemon juice over them, then pour in enough water to barely cover the surface of the dolmathes. Cut a piece of parchment to the circumference of the pot and fit it over the leaves. Cover with a plate to keep the grape leaves in place and place the lid on the pot. Simmer until the leaves and cracked wheat are tender and the pot juices absorbed, about 50 minutes. Remove from the heat and serve.