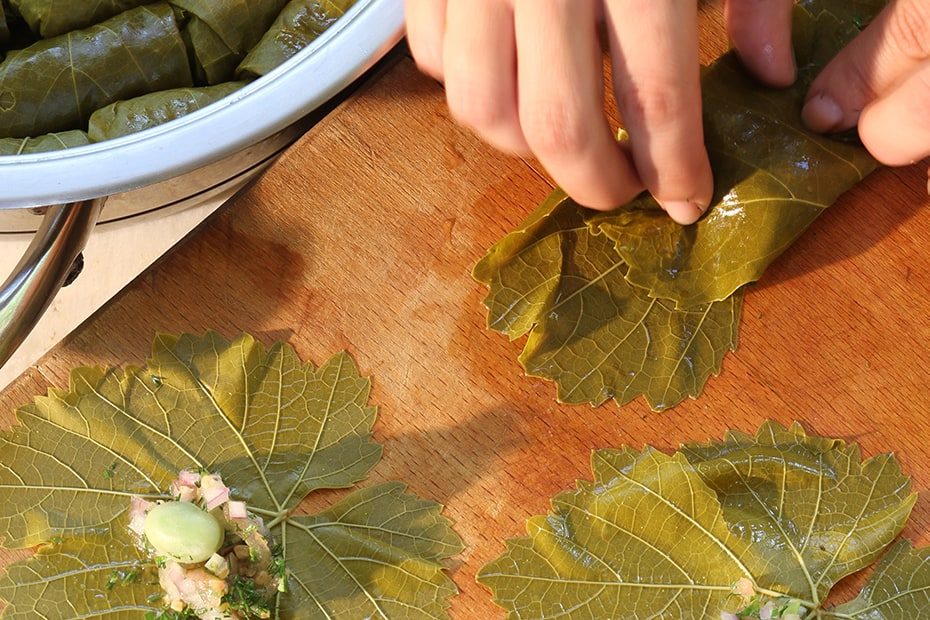 Rhodes-Style Grape Leaves Stuffed with Broad Beans and Bulgur
---
Ingredients
1 16-

ounce

jar grape leaves in brine

2

large

firm tomatoes

10

ounces

fresh or frozen

defrosted baby broad beans, shelled

½

cup

coarse bulgur wheat

4

red onions

finely chopped

4

scallions

trimmed and finely chopped

2

garlic cloves

minced

1

cup

chopped fresh dill

1

cup

chopped fresh parsley

1

cup

chopped mint

1

tablespoon

cumin powder

Salt

pepper to taste
Instructions
Bring a large pot of water to a rolling boil and blanch the grape leaves for 3 minutes, to soften. Remove with a slotted spoon and transfer to a bowl filled with ice water.

Grate the tomatoes on the coarse side of a hand grater. Place the tomatoes, broad beans, bulgur, onions, scallions, garlic, and herbs in a mixing bowl and toss to combine. Add the cumin and season generously with salt and pepper. Mix in half the olive oil and a cup of water at room temperature. Let the mixture stand for 15 minutes.

Drain the grape leaves and place vein side up on a work surface. Using a kitchen scissors or small knife, snip off the stems. Place as many grape leaves as will fit in neat rows in front of you on a work surface. the leaves should be placed vein side up, with the pointy part at the top and the stem end at the bottom, nearest you. Place any torn or very small leaves on the bottom of a wide pot to cover the surface.

Take a heaping teaspoon at a time of the filling and place on the bottom center of the first leaf. Fold in the sides then roll up to form a small cylinder. Place seam side down inside the pot, along the outer rim. Continue filling and rolling until done. You can place the dolmades in multiple layers on top of one another, so long as in each layer the stuffed grape leaves are placed snuggly next to one another. Pour in remaining olive oil and enough water to cover the leaves by ¼ inch/55 cm.

Cut a piece of parchment to the circumference of the pot and place over the paper. Cover the pot and bring the grape leaves to a simmer over medium heat. Reduce to low and simmer for about 50 minutes to an hour, until tender.
Notes
Variation: Grape Leaves Stuffed with Mushrooms. This recipe is from a small village on the interior of Rhodes called Laerma, about 64 kilometers from the island's capital. Follow the directions above, but replace the broad beans with 1 pound of chopped button, oyster, or portobello mushrooms.
Variation: Try peeling and slicing potatoes to place on the bottom of the pot, under the grape leaves. You can remove them and serve them separately, as a salad or side dish. They take on the delicious briny flavor of the leaves and make for a very unique dish.