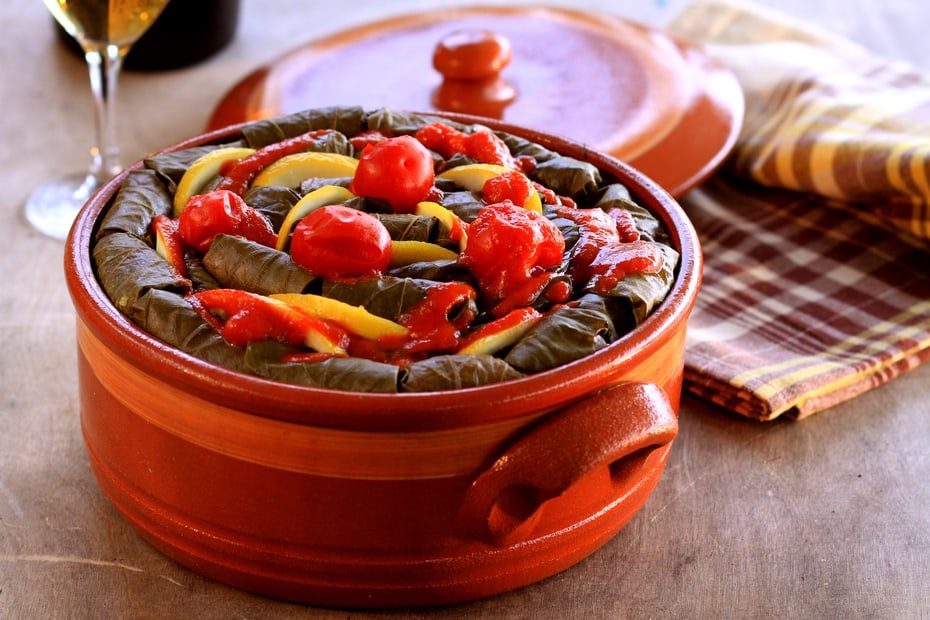 Baked Dolmades Stuffed with Fava & Santorini Tomatoes
---
Throughout the Aegean islands there are recipes for stuffed grape leaves that go beyond the classic rice-and-herb or rice-and-meat filling. Bean and vegetable stuffings are not uncommon. In this Greek recipe with a twist, the famed yellow split pea, aka fava, gets a wrap!
Recipe developed for campaign "Santorini Volcanic Terroir" www.santorinivolcanicterroir.eu 
Ingredients
For Fava Filling
6

tablespoons

extra virgin Greek olive oil

and more, as needed

4

large red onions

finely chopped

2

garlic cloves

finely chopped

2

cups

Santorini Fava

2

teaspoons

turmeric

2

bay leaves

1 ½

cups

Carolina rice

1

cup

chopped fresh dill

1

cup

chopped fresh mint

Salt and pepper to taste

Grated zest of 1 lemon

1

lemon

halved and cut into thin crescents

1

jar brined grape leaves

rinsed and stems trimmed

1

can Santorini whole small tomatoes with juices
Instructions
Prepare the fava for filling: Heat 3 tablespoons olive oil in a large, wide pot over medium heat and cook one-quarter of the chopped onions (1 onion, in other words), until soft. Stir in the garlic, then add the fava and stir to coat in the oil. Add the turmeric and stir. Add enough water to come about an inch above the fava and bring to a simmer. Add the bay leaves. Simmer, with lid ajar, replenishing the water judiciously as needed for the fava to simmer and cook. When it is soft and has absorbed all the liquid in the pan, remove from heat. The fava should be the consistency of chunky mashed potatoes. Place a kitchen towel over the fava and let it cool.

In the meantime, heat another 2 tablespoons of olive oil in a separate wide pot and cook the remaining onions until soft and lightly browned, about 12 minutes. Stir in the rice and add 1 ½ cups water or vegetable stock. Season with salt. Simmer covered until the rice is about 2/3 of the way cooked and the liquid absorbed. Remove from heat.

Combine the onion-rice mixture and fava in a mixing bowl. Remove the bay leaves. Add the lemon zest and herbs and adjust seasoning with additional salt and pepper. The mixture should be dense and hold together very well.

Preheat the oven to 375F/180C.

Place the rinsed grape leaves vein side up in rows in front of you on a clean work surface. Snip the stems if necessary. Place a heaping teaspoon or more, depending on size of leaf, in the center bottom of each leaf and roll up like a spring roll, into a neat cylinder. Place seam-side down in an ovenproof glass or ceramic baking dish and continue rolling the leaves and filling until both are completely used up. Place the grape leaves next to one another very snugly. Place the lemon slices decoratively in between the rolled leaves throughout the pan. Pour the whole tomatoes and remaining olive oil over the rolled grape leaves, tilting the pan to spread evenly. Add more olive oil if desired, and enough water to come just about half way up the leaves, not more.

Cover with parchment then seal with aluminium foil and bake for about 35 to 40 minutes, or until tender. Remove, cool slightly, and serve, You may also serve these the next day, chilled or at room temperature, accompanied by a little Greek yogurt.
Want to learn more easy, healthy Mediterranean diet recipes? Sign up for my online course "Mastering the Mediterranean!"
Love vegetables? Want to learn more great plant-based Mediterranean dishes? Enroll in my online  class "Baked Vegetable Classics!"