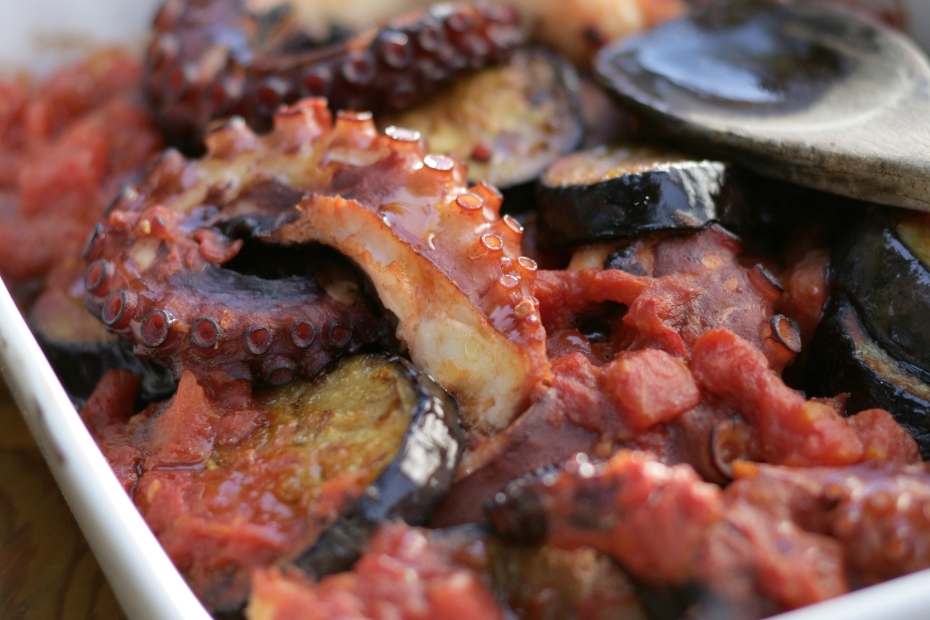 Octopus Braised with Eggplant from Epanomi
---
One glorious Fall day last year, we visited the winemaker Vangelis Gerovassiliou, in Epanomi. His mother, kyria (Mrs.) Marianthi, made this delicious local specialty for us. "Food needs olive oil, sweets sugar, and savory pies butter," she said matter-of-factly when I remarked on the copious amount of olive oil in the dish below. She also explained that she bakes the dish to prevent the eggplant from disintegrating. Contrary to my own inclinations, she also boils the octopus, like my Italian friend, in plenty of water. You can find a wonderful range of Greek olive oils, herbs and other artisan ingredients at my online store
here
.
Ingredients
1

medium octopus

about 3 pounds/1.35 kg

1/2

cup/120 ml light red wine vinegar

5 to 8

allspice berries

6

bay leaves

3

long eggplants

washed, trimmed and cut into 3/4-inch/1.8-cm cylinders

4

large fresh tomatoes

seeded and grated
Instructions
Soak the octopus for a few minutes in warm water and the vinegar. Rinse well. Using a sharp knife, cut the octopus just below the eyes to remove the hood. Squeeze or cut out the mouthpiece and cartilage on the other side of the mouthpiece. Rinse and drain the octopus.

Place the octopus in a large pot with enough water to cover. Add the allspice and 3 bay leaves. Bring to a boil and simmer for about 40 to 50 minutes, until somewhat tender but still firm to the touch. Remove, reserve cooking liquid, cool slightly, and cut into 8 pieces along the tentacles. Preheat the oven to 350˚F/180˚C.

While the octopus is simmering, heat 1 cup of the olive oil over medium heat in a large, heavy skillet and sauté the eggplants for a few minutes, until al dente. Remove the eggplants from the skillet with a slotted spoon and set aside. Add the grated tomatoes to the skillet and cook over medium heat until most of their liquid has cooked off and the tomatoes are thick. Remove from heat. Toss the eggplant, octopus, and tomato mixture together in a baking pan. Season to taste with salt and pepper, add 1/2 cup of reserved octopus cooking liquid. Drizzle with olive oil and bake uncovered for about 25 minutes.
Notes
Adapted from from The Country Cooking of Greece