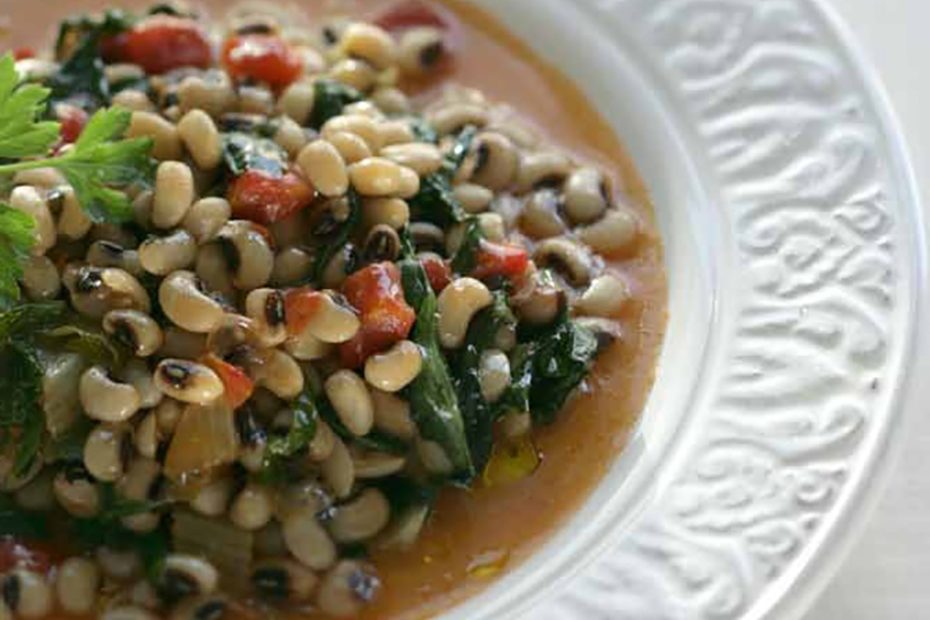 Black-Eyed Peas with Greens and Fennel / Mavromatika me Maratho
---
Black-eyed peas are one of the easiest legumes to cook. You don't have to soak them. They are filled with nutrition and have a wonderful, nutty flavor. In Greece, regional specialties abound for black-eyed peas, among them this lovely, savory, vibrant stew from the Aegean islands, where fennel is one of the core flavors.
You can substitute spinach or chard for the fennel, or just add some in addition to it, to the pot. This is one of the great "ladera" dishes of Greece, those that are based, in other words, on generous amounts of olive oil, called ladi in Greek. Find some of the best artisinal Greek olive oils and more personally curated Greek ingredients at my online store here.
Ingredients
1

pound/45 g black-eyed peas

3

cups

trimmed and coarsely chopped wild fennel leaves

or a combination of 1 coarsely chopped fennel bulb and 400 grams/ 1 lb. baby spinach or chard*

1

large onion

coarsely chopped

2

garlic cloves

peeled and chopped

4

large tomatoes

peeled, seeded, and pulverized in a food processor

A touch of lemon juice

if needed
Instructions
Wash and strain the black-eyed peas. Wash and strain the fennel. If using fennel bulb, trim it and chop it as for the onion. If using spinach and/or chard, trim, coarsely chop and wash.

Place the black-eyed peas in a large pot with enough water to cover by about two inches. Bring to a boil. Lower heat and simmer.

In the meantime, heat 1/3 cup olive oil in a deep, heavy skillet or pot, and saute the onion and fennel over low heat until wilted and tender, about 10-12 minutes. Add the greens if using, and give them a few stirs until wilted but al dente. You want to bring out some of their flavor.

Remove and add to the black-eyed peas, stirring gently to combine. Stir in the tomatoes and remaining olive oil. Simmer, slightly covered, for about 45-50 minutes, or until the black-eyed peas are tender. Add more water if necessary during cooking. About ten minutes before removing from heat, season with salt and pepper. Squeeze in a little lemon juice or add a touch of vinegar, to bring up the flavors a bit.

Remove, cool to room temperature, and serve.