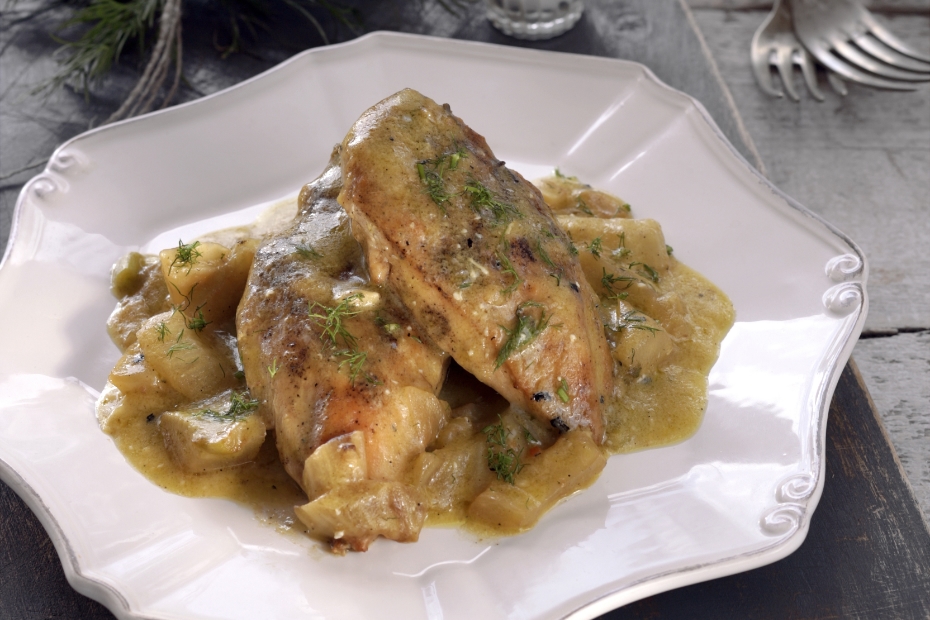 Pot-Roasted Chicken with Lemon and Mastiha Liqueur
---
Lemon chicken? Arguably one of the world's most popular recipes. With a Greek twist and the surprising, exotic flavor of mastiha added to this, a commoner steps up royally! Check out my online store
here
to find the olive oil and herbs used in this dish.
Ingredients
1

medium chicken

3 – 3 ½ lbs. / 1 ½ – 2 k, cut into serving pieces

2

tbsp

extra virgin Greek olive oil

1

large leek

whites and tender greens, coarsely chopped

1

medium sized fennel bulb

coarsely chopped

2

garlic cloves

finely chopped

½

cup

mastiha liqueur*

1 ½

cup

chicken stock

½

cup

fresh dill

finely chopped

1

large egg

slightly beaten

Juice of 1 large lemon or more to taste
Instructions
1. Wash and pat dry the chicken. Heat the oil in a large, wide, deep pan on a medium to high heat and cook the chicken until all sides are brown. Season. Remove the chicken using a slotted spoon and put aside.

2. Remove all but two tablespoons of the fat from the pan, lower the heat to medium, add the leek, fennel, and garlic and let cook for about 5-6 minutes until translucent and softened. Put the chicken back in the pan, season to taste and lightly stir with a wooden spoon until all vegetables are evenly spread out around the chicken pieces. Add the liqueur. When it sizzles up and evaporates add the chicken stock and enough water to barely cover the chicken. Cover the pan and simmer for 45 minutes or until soft. Add the dill 5 minutes before turning off the heat.

3. To prepare the "avgolemono" (egg and lemon) sauce: Beat the egg and lemon juice together in a medium sized bowl. Take some of the liquid left in the pan and add it to the "avgolemono" in a slow, steady motion, stirring constantly. Repeat with a second dose of chicken stock. Pour over the chicken, shake the pan until the sauce goes everywhere and remove the pan from the heat. Do not cover the pan. Serve immediately.
Love chicken? Check out my online class "Wing It! – Great Mediterranean Chicken!"
Notes
*Mastiha liqueur is a lot like ouzo, except that instead of tasting of anise, it tastes of, well, mastiha, the crystal resinous spice produced on the island of Chios. You can find it at the MastihaShops worldwide.