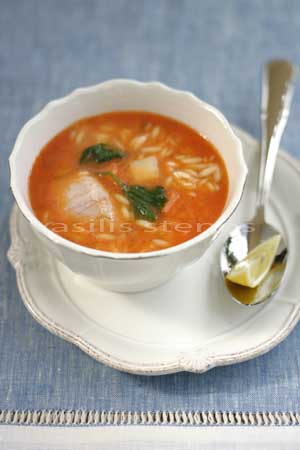 When the mercury dips below a certain number and I dust off my heavy winter jacket (at last) I know it's time for soup. Soup is an underrated food category in the cuisine that gave the world brilliant tomato-feta salad, crackling roasted lamb, and succulent grilled fish enlivened with lemon. Our sunny, warm clime has fostered other traditions, no doubt, but en route to the current table we never really developed a great soup tradition.
Many of the most traditional soups, including beef and vegetable soup and fish soups galore, are more like excuses for boiling the meat, fish and vegetables, only to serve them separately, with a little broth as a starter. These are delicious and very rustic. Beans are the mainstay of the Greek soup tradition, especially those made with chick peas, lentils, and regular white beans. These are usually simple, with few extraneous ingredients, as in the clay-baked chick pea soup from Sifnos. Trahana is another mainstay of the Greek soup pot. A few regional oddities—yogurt soups, bulgur and tomato soups—round out the contents of the traditional soup pot.
Despite the dearth, though, around this time of year I yearn for steaming bowls of comforting soups. In recent years, at least if restaurants are any kind of gauge, soup has become a little more acceptable and popular. One chef, Lefteris Lazarou of the restaurant Varoulko, seduces many a customer with his delicious concoctions, many of which, like his onyx-colored squid-ink soup, have inspired other chefs to experiment with this once overlooked category. Carrots and pumpkin are two other raw ingredients that draw chefs to the soup pot, offering them the freedom to spice as they like, since both these hearty vegetables stand up to strong and gentle spices alike: Cumin, curry powder, garam masala, mastiha, fresh and dried oregano and a whole host of other flavoring agents work with equal success in giving carrot and pumpkin soups some punch. One of my own favorite soup ingredients is celery root, low in starch and calories and high in flavor and texture, you can fatten it up almost guiltlessly with some cream and maybe a potato or two.
Beans for Comfort and Health
For me, the simplest and most healthful Greek soups are among the best, with lentils and chick peas leading the way for some of the most rewarding and comforting dinners. But simple foods require the best raw ingredients to taste just right.
For example, there are many variations of lentil soup from different regions in Greece, but one region, Englouvi in the highlands of Lefkada, stands out for the quality of its lentils. They grow in the region's potassium-rich soil, which helps them cook in less time than do other varieties. Unfortunately, Englouvi lentils are all but impossible to find outside Lefkada itself. Good quality small green-brown lentils to make this soup. Garlic, vinegar, oregano, and raw olive oil dress up earthy lentils with robustness. Local cooks say you should never stir a lentil soup with anything other than a wooden spoon and you should never add salt before the end of cooking, lest the lentils' skins peel off.
In other parts of Greece, namely the Dodecanese, lentils and pasta are a common combination. This could be a custom adopted from the Italians, who once ruled the Dodecanese. Rustic lentil-pasta soups is made in several variations throughout the region. One of my favorites is from Astypalea, where the soup is prepared with tiny homemade pasta granules. I've adapted it here to make it easier, calling for Greek kouskousi.
Soup can be either substantial or a tease, something with which to start a formal meal or something to throw together on the stove in the morning, simmer half the day, and serve for comfort and a filling, healthy dinner at night.