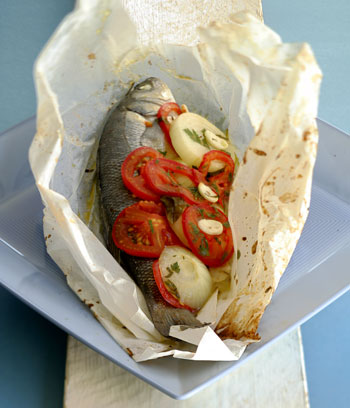 Sea Bass Baked in Paper
---
What the Greeks call lavraki, restaurant goers in the United States and Western Europe know as loup de mer or branzino. Lavraki is a Mediterranean Sea bass, and it is one of the most delicious and desirable fish. It is also the star of the Greek fish farming industry. Fish farming is a huge global business, worth about $61 billion annually. In Greece, despite the current economic woes, fish farming is a vibrant industry. The country produces about 100,000 tons of farmed fish, worth more than half a billion dollars annually. Most of it is sold abroad. I've stumbled upon Greek farmed sea bass in restaurants across the world, as far away as the landlocked Napa Valley in northern California. Greece, with its long coastlines, great climate, and relatively unindustrialized economy (read that to mean that the waters are relatively clean), provides the perfect conditions for fish farming. Lavraki, as well as sea bream (fagri) are excellent species for farming because their production cycles are short. The industry employs about 100,000 people annually. Wild sea bass, which thrives in the cold, dark winter waters of the Mediterranean, can reach about three feet (a meter) long and about 22 pounds (10 kilos) in weight. Farmed lavraki is much smaller, usually not topping about a kilo, which makes it the perfect size for that Greek classic, whole fish on the grill. Its flesh is delicate, flaky, and sweet. One of my favorite ways to cook it is in paper, which helps the fish retain all its delicious juices. To find the Greek olive oil, herbs and more needed to make it, go to my online store
here
.
Ingredients
1 1/2

kilos / 3 lbs. small sea bass

cleaned and gutted but whole

1

tbsp.

extra virgin Greek olive oil for each fish

plus extra for oiling the baking dish

1

tbsp.

fresh lemon juice for each fish

2

medium sized onions

cut into thick rings

2

medium sized

firm, ripe tomatoes, cut into thin rings

2

garlic cloves

cut into very thin slices

Bay leaves

one for each fish

Freshly ground black pepper

½

cup

finely chopped fresh parsley
Instructions
Preheat the oven to 365oF/190oC. Sprinkle the fish with salt. Cut 4, 16-inch (40 cm) square pieces of parchment paper. Brush with olive oil.

Place a fish on each square piece of paper. Sprinkle each fish with 1 tbsp lemon juice. Evenly distribute the onion, tomatoes and garlic slices on all the fish. Place a bay leaf on each fish. Sprinkle with pepper, parsley and 1 tbsp olive oil. Fold up the sides and roll in the edges to form a parcel. Tie with kitchen string to secure closed, if desired. Place in the baking pan. Sprinkle the tops of the parcels with a little water. Bake the fish for 30-35 minutes.

Remove from the oven, let cool for a few minutes and serve. To serve, place on individual serving dishes, carefully open the parcels, and remove the bay leaves.