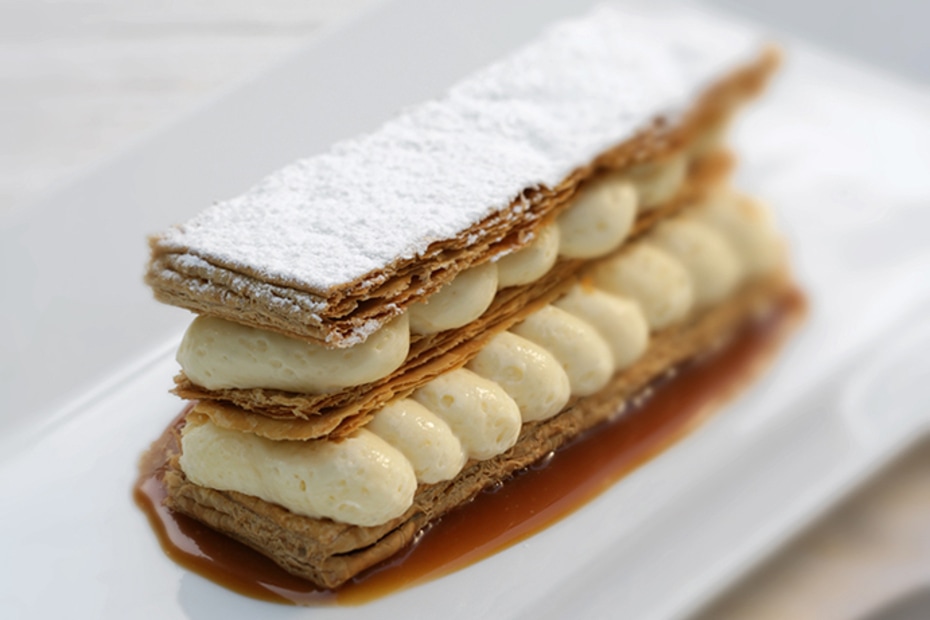 Phyllo Napoleons With Mastiha-Tahini Cream
---
This Greek recipe for a sumptuous dessert calls for some of the most iconic ingredients in Greek cooking: phyllo pastry, extra virgin Greek olive oil, tahini, Greek honey, and mastiha.
Ingredients
For the mastiha – tahini cream:
Instructions
Prepare the phyllo:
Preheat the oven to 350°F. Line 2 baking sheets with parchment paper. Stack the 12 sheets of phyllo and cut in half crosswise. On a clean work surface, place the first half sheet in front of you. Brush with olive oil and sprinkle with sugar. Place a second sheet on top and repeat. Repeat for 4 more layers to get a stack of 6 half sheets, adhered together with olive oil and sugar. Make sure to brush the last stack with oil and sugar, too. Cut the stack into 6 equal rectangles and place on one of the parchment-lined baking trays. Repeat the entire procedure with another four half sheets of phyllo, placing them on the same baking tray. Repeat two more times, using the second baking tray. You want to end up with 24 equal rectangles of four phyllo layers each. Bake until golden brown, 8 to 12 minutes. Let cool to room temperature, about 15 minutes.
Make the mastiha-tahini cream:
Meanwhile, in a small bowl, stir together the honey with the tahini. In the bowl of a stand mixer outfitted with the whisk attachment, or with a portable hand mixer, beat the heavy cream until soft peaks form. Gently incorporate the honey-tahini mixture, confectioner's sugar and mastiha and whip to stiff peaks. Refrigerate, covered with plastic wrap, until ready to use.
Assemble the napoleons:
Place one phyllo stack on a small serving or dessert plate. Spread about 3 tablespoons of the tahini-mastiha cream over the phyllo and top with another rectangle. Repeat on separate dessert plates or on a large platter, until all the stacks and filling are used up. Dust with confectioner's sugar and serve.
Love savory pies and phyllo specialties? Sign up for my online class "Fearless Phyllo – Homemade!" to learn the secrets of making great, easy pies at home! 
Notes
You can also pipe the cream decoratively over the bottom pieces of phyllo to make for a more fanciful presentation.