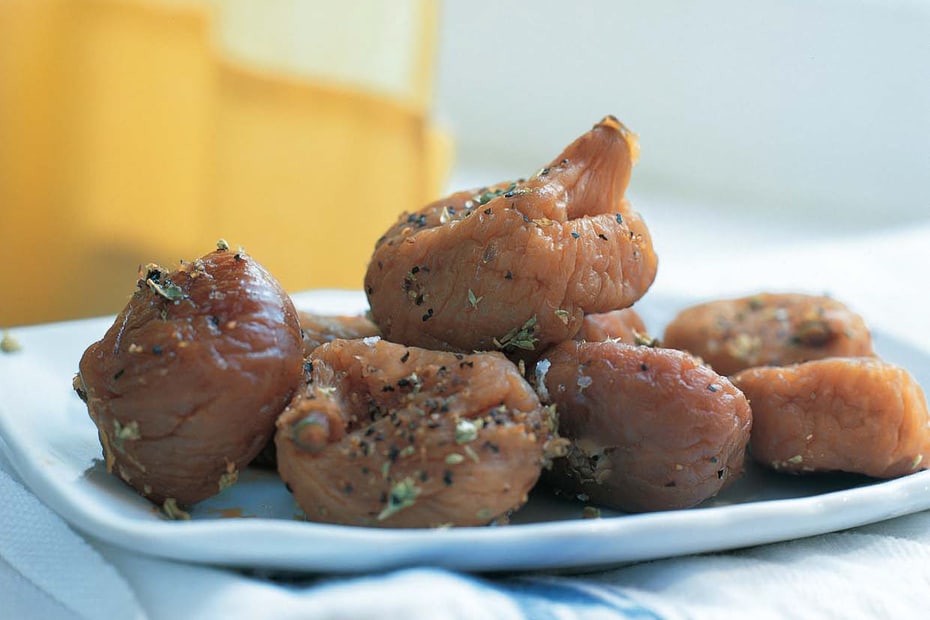 Poached Kalamata Figs with Oregano
---
I came across this perfect Mediterranean Diet snack and wonderful way to prepare dried figs years ago in a small village outside Kalamata. It as during the olive harvest, when dried figs are an important source of energy. But these were a treat I had never imagined, poached in salted water then sprinkled with oregano and roasted in embers. This is simpler. All you need is an oven!
Instructions
Preheat the oven to 350F/170C.

Fill a medium-large sauce pan with 2 quarts of water and bring to a boil. Add the salt. When the water comes to a rolling boil, add the dried figs to the pot and poach for five minutes. Remove and drain.

Place the hot figs on a large sheet of parchment paper. Sprinkle with dried oregano and pepper. Wrap in the parchment, then in aluminum foil to form a tightly closed parcel. Bake the figs for 20 minutes. Serve warm.
Notes
You can also smoke the figs in a home smoker instead of baking them, or do as the traditional cooks in Kalamata do and nestle the packets under hot embers in a fireplace (winter only!).