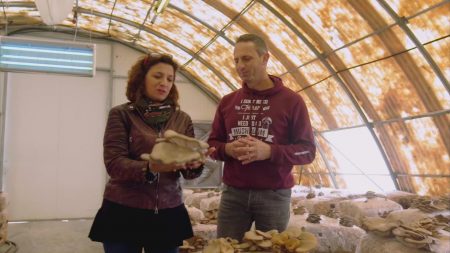 Porcini…trumpets…wood ears…morels…even truffles. One of the most impressive phenomena in nature is the rapid and sudden appearance of mushrooms. It's pure magic to scour damp earth looking for these delicious gems.
The first time I ever went mushrooming in Greece I was given a piece of advice that I couldn't really understand at the time: "Look up, not down," if you want to find mushrooms. In other words, look at the trees and vegetation and you'll understand what mushrooms sprout below. Of course, that makes perfect sense, considering that Greece is a country not only with one of the longest coastlines in the world, but also with a topography that's 80% mountains, much of it forested. It's not an understatement to say that Greece is a mushroom lover's paradise.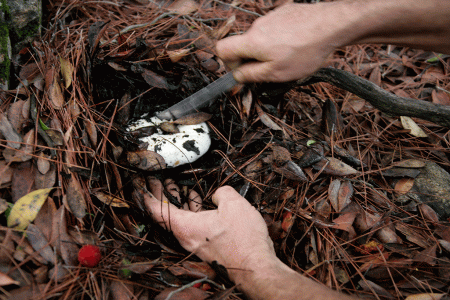 My own love of these earthly delicacies is what led me to Lefteris Lakouvaris and Thanassis Mastrogiannis, partners in what is largely considered to be one of the most revered mushroom companies in Greece, for both wild and cultivated, fresh and dried 'shrooms. I have known the company for years and even filmed there during season 3 of My Greek Table, interested in the mysterious world of fungi.
Lefteris and Thanassis built their company after studying agronomy at the University of Athens. By sheer chance, a professor of Lefteris's suggested he apply for a summer job at a mushroom cultivation plant in Germany. With that stroke of fate, he was won over by the mysteries of mushrooms. A little over 10 years after graduating, the team set up their company, Dirfis, in the scenic lush foothills of Dirfi, the tallest mountain on Evia, itself a wild mushroom paradise and home to many other fascinating culinary traditions. The island is just a little over an hour from Athens, hiding, literally in plain sight.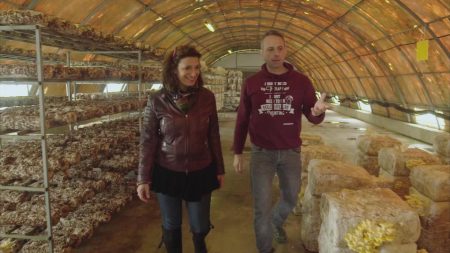 During my first visit there, we began with a walk in the nearby forest, uncovering wild porcini and trumpets. But the real adventure for me was inside a huge hangar-like series of incubated spaces devoted solely to the cultivation and subsequent drying of many different varieties of mushrooms. From blocks of hay sprouted countless oyster mushrooms, shitakes, TK and TK. In a controlled, pristine environment, mushroom growing mimics nature, and the art of growing them is a complicated, fragile undertaking where hygienic conditions have to be impeccable. "The phenomenon of mushrooms depends directly on the evaporation rate of the mycelium's growing fruitfulness and its osmotic pressure," says Lefteris. "By applying the ideal ventilation, environmental temperature and relevant humidity into the cultivation cabin, we are constantly trying to keep the evaporation rate within required levels."
But they're on another mission, too, and have been since first opening their plant in 2003: "We want to promote the deliciousness of mushrooms, but also their nutritional and therapeutic value," says Lefteris Lakouvaris. The pair has worked closely over the years with the Agronomy School of the University of Athens, researching ways to produce mushrooms with even higher antioxidants, vitamins and proteins. Indeed, one of the most startling attributes of mushrooms is their nutritional – and textural in some varieties –resemblance to red meat, but without any of the negative dietary or environmental aspects.  Mushrooms are, indeed, a nutritional powerhouse.
According to the New York Times, mushrooms, "low in calories and fat and cholesterol-free, mushrooms contain a modest amount of fiber and over a dozen minerals and vitamins, including copper, potassium, magnesium, zinc and a number of B vitamins such as folate. Mushrooms are also high in antioxidants like selenium and glutathione, or GSH, substances believed to protect cells from damage and reduce chronic disease and inflammation."
Mushroom lovers know this instinctively and also spend years learning to differentiate between species that are salutary and those that are poisonous. This visionary pair has been able to bring many varieties of mushrooms to the masses, selling their fresh and dried products, both common and exotic, to supermarkets and restaurants all over Greece. Try their forest mix and much more…for a delicious taste of mystery.
You can find lots of wonderful Greek mushroom recipes here.