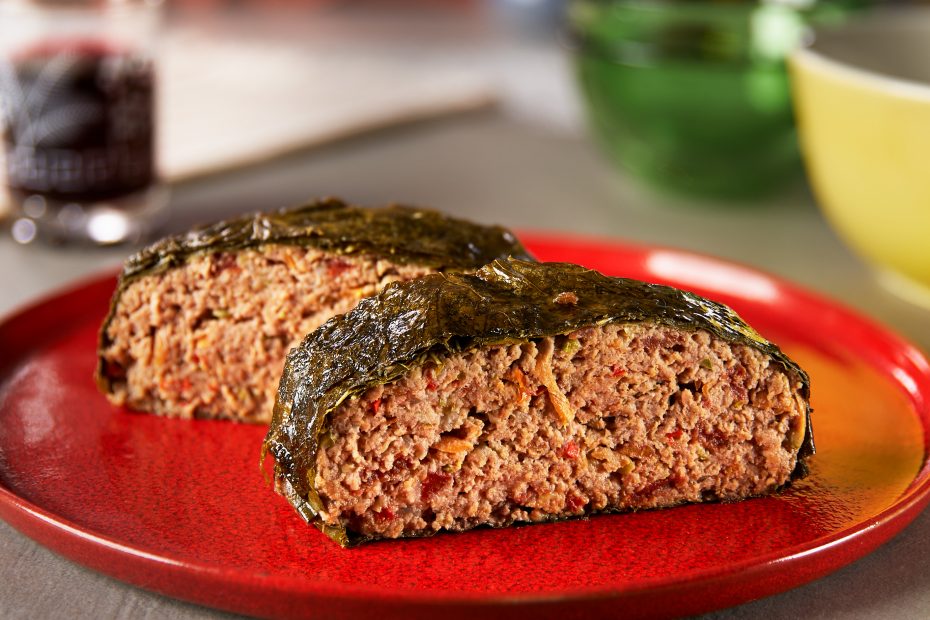 Meatloaf Baked In Grape Leaves
---
This My Greek Table recipe for meatloaf is no doubt a world above anything you've ever experienced as meatloaf. Meatloaf is, almost by definition, one of the most "banal" dishes in the world, something you either love or hate. But when done well, it was and still is one of the great bougy recipes of the Greek kitchen, reminiscent of another era, when family lunches on Sunday lasted for hours, orchestrated by heroic Greek grandmothers and mothers! I miss those days, so recreated this nostalgic, unusual Greek meatloaf recipe anew! Drink it with a Cretan Liatiko, one of the most delicious indigenous varietal reds in the country!
Ingredients
2

ounces/55 g grape leaves

1/4

cup

extra-virgin Greek olive oil

1

carrot

peeled

1

medium zucchini

trimmed

1

medium red onion

minced

1

sweet red pepper

seeded and minced

2

garlic cloves

minced

9

ounces/250 g ground beef

9

ounces/250 g ground lamb

4 ½

ounces/125 g stale country bread

crusts removed

Freshly ground black pepper

1

scant teaspoon dried oregano

1

cup

chopped canned tomatoes or 2 firm

ripe tomatoes, grated

1

medium egg

½

cup

white wine
Instructions
Preheat oven to 350°F/180°C. Lightly oil a large baking pan (big enough to hold a 6x13

inches/15x32.5 cm loaf.

Bring a large pot of unsalted water to a rolling boil. Remove and drain the grape leaves from the brine. If using fresh, rinse and drain in a colander. Blanch either fresh or brined grape leaves for 3 to 4 minutes, until softened. Remove and drain in a colander, rinsing under cold water immediately.

Grate carrot and zucchini and leave on the side.

In a large sauté pan or deep skillet, heat the olive oil over medium flame and cook the

carrot, zucchini, onion and peppers for about 5 more minutes, until soft. Season with salt, add garlic, and cook for about 8 minutes. Remove from heat and cool slightly.

In a stainless steel mixing bowl, combine the meat. Dampen the bread under cold running water, squeeze out all the liquid, and crumble into the bowl with meat. Add the cooked vegetables, tomatoes, salt, pepper, oregano and knead well. Add the egg, knead well and shape into a loaf.

Place 6 grape leaves vein side up on parchment paper, place the meatloaf on top and wrap the bottom half of the meatloaf. Spread as many grape leaves as needed to cover the top and sides, pressing them together over and around the meat so that they adhere. Move to a baking pan and drizzle some olive oil on top and white wine.

Bake at 350F / 170C for 1 hour or until the meat is cooked and the grape leaves tender. Keep covered for half an hour and then leave uncovered for the remaining half an hour.

Remove, and cool slightly. Use a serrated knife to slice the meatloaf into serving portions.