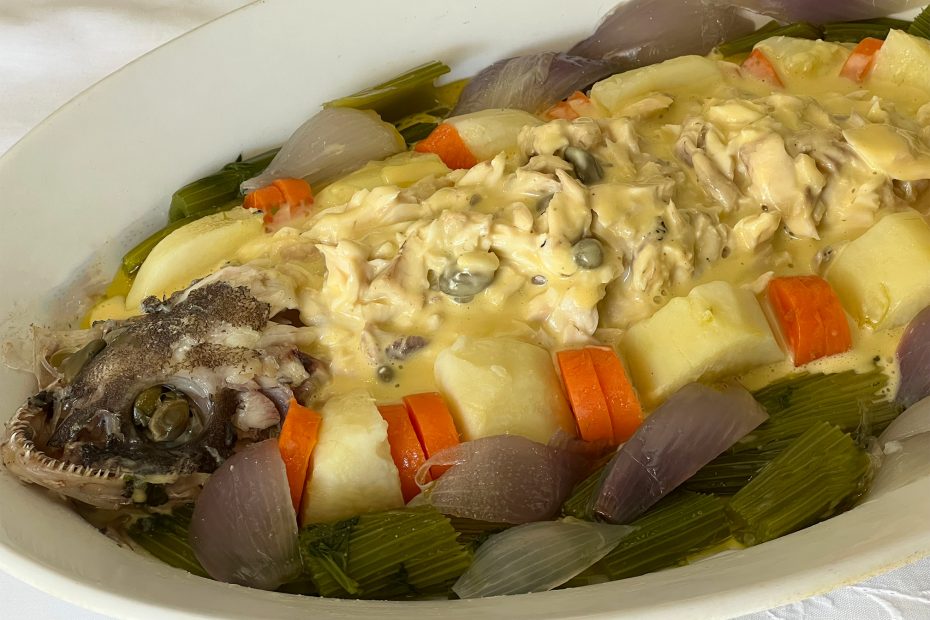 Athinaiki Mayioneza (Poached Fish With Homemade Mayo)
---
The name of this dish, which translates as Athenian Mayonnaise, might sound like an oxymoron, but it actually happens to be one of the classics of "bourgeois" Greek cooking, and something Athenian ladies of a certain generation made for company and special occasions. It was one of the dishes that showed off their skill as cooks. It's really a poached fish recipe with homemade mayo and when done well, it's extraordinary.
Ingredients
1

onion

cut in half

1

celery bunch or 8-10 medium celery stalks

2

carrots

½

bunch parsley

2

potatoes

cut in half

1

whole grouper

cod, or sea bream

2

tsp

capers

2

Tbsp

Homemade Greek Mayonnaise

or more, as needed
Homemade Greek Mayonnaise
Instructions
Boil the vegetables to prepare a stock. Add the onion, celery, carrots, parsley, and potatoes to a pot with enough water to cover the vegetables. Boil for 30-35 minutes or until all the vegetables are cooked. Remove the boiled vegetables from the stock and leave it aside so you can poach the fish later.

Meanwhile, prepare the mayonnaise. Mix the egg yolk and olive oil in a medium bowl, whisking all the while vigorously. Add mustard powder, keep whisking, and add the water, lemon juice, salt, and red wine vinegar. IMPORTANT: Each ingredient needs to be added very slowly, while whisking so that it is incorporated into the mix without curdling it. Whisk in the flour last to thicken the mayo.

Carefully place the whole, cleaned fish in the pot with the vegetable and simmer it gently to poach for 15-20 minutes, depending on the size of the fish. Note that a whole trout weighing 10-12 oz (275-350 g) each will take 8-10 minutes – less for small fish.

As soon as it's ready, using two large slotted spoons, remove the fish very carefully and place it on a platter or cutting board. Let it cool a little, then clean the fish thoroughly, but keeping the head and tail intact. As you clean and shred the flesh, try to keep the fish flesh in big pieces.

Place the fish in a mixing bowl, add capers and 2 tablespoons of mayonnaise, or more, as needed, to make a moist mixture that holds together.

Reconstruct the fish on a platter, placing the head and tail at either end and use the boiled vegetables as a garnish around the fish. Top the fish with the rest of the homemade mayonnaise and serve.