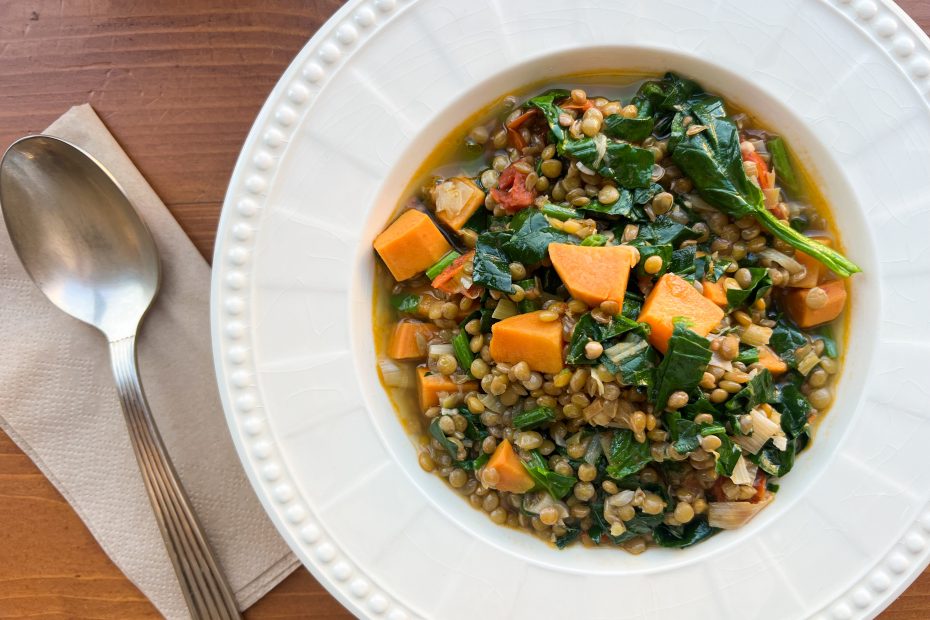 Lentil-Sweet Potato Soup with Spinach and Sage
---
This lentil-sweet potato soup is an all-weather, all-season Mediterranean diet and Greek diet adaptation of the many traditional lentil soups recipes around Greece. Indeed, both lentils, an Old-World Mediterranean diet ingredient and one of the earliest cultivated native legumes in the Eastern Mediterranean, and sweet potatoes, a New-World tuber, have long been important Ikaria longevity foods, which, as you know by now, is a Blue Zone, the term coined by Dan Buettner to refer to the places around the world where people live a very long time. Iron-rich spinach and antioxidant-rich tomatoes add even more gorgeous color to this uber healthy, really easy Greek lentil soup recipe! You can enjoy it at room temperature, too!
Instructions
Heat 2 tablespoons of olive oil in a wide pot over medium heat and cook the leeks, covered, until soft, for about 5 minutes. Add the garlic and stir for a few seconds to soften.

Add the lentils and stir to coat in the oil. Stir in the tomatoes. Add the sage and bay leaf. Add the sweet potatoes and enough water or vegetable broth to cover the lentils by about 1 ½ inches. Bring to a simmer, cover, and cook for about 40 minutes, adding more liquid as needed to keep the soup, well, soupy but thick!

Remove the bay leaf and sage. Add the spinach, stirring it in in batches until it wilts. Season with salt and pepper and enough balsamic and petimezi, to taste, about a tablespoon each. Drizzle in the remaining olive oil, and more, if desired, and serve.
Want to learn more about Ikaria Longevity Cooking? Sign up for my online class bundle "Everything Ikaria 101!"
Want to learn more easy, healthy Mediterranean diet recipes? Sign up for my online course "Mastering the Mediterranean!"
Want to learn more easy, healthy Mediterranean diet recipes? Sign up for my online course "Mastering the Mediterranean!"
Love soup? Check out my online class "Comfort in a Soup Bowl!"