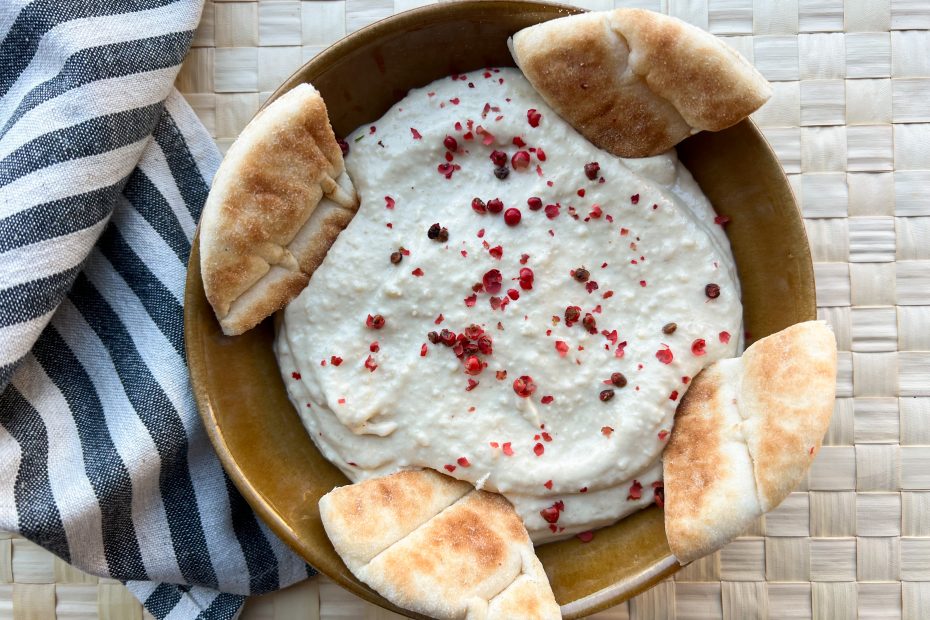 Taramosalata with Blanched Almonds, Tortilla Wraps and Pink Peppercorns
---
Many recipe roads lead to a great taramosalata, arguably the best-known Greek dip and one of the great Greek meze recipes! I have a few different recipes for taramosalata, the fish roe spread that is a Lenten classic but also eaten throughout the year as a meze, on this very site. The secret to all of them is to add more olive oil than you thought imaginable! It tames the overwhelming saltiness of the fish roe and creates that craveable, irresistible creaminess that will keep you dipping for more. This is taramosalata recipe is yet another incarnation! Tarama, fish roe, is a nutrient-dense Greek diet ingredient and it's not by accident that this dip is a staple during Lent. Enjoy it with pita wedges, fresh vegetable sticks or as a side to other Lenten classics like boiled beet salad and beet greens with olive oil and vinegar.
Ingredients
3

– 5 tortilla wraps

about six inches in diameter

¼ to 1/3

cup

blanched almond slivers

2

– 3 ounces tarama

fish roe

1

– 2 garlic cloves

chopped (to taste)

¾ to 1 ½

cups

extra virgin Greek olive oil

¼ to ½

cup

fresh strained lemon juice

or more, as needed

Water as needed

1

tablespoon

pink peppercorns for garnish
Instructions
Have a bowl of water on the counter and dip the tortilla wraps one at a time into the water to soften. Squeeze dry and break up into the bowl of a food processor. Repeat with another two wraps. Hold off on using the remaining two until you whip everything together – you may need to add more bread if it's too salty.

Pulse the dampened tortilla crumbs for a few seconds. Add the blanched almonds and garlic and pulse to combine. Add the tarama. Pulse that, too, to combine all together.

Next, add the olive oil and lemon juice in alternating doses until you reach the desired flavor and texture. Loosen the taramosalata with a little water, again, eyeballing it and tasting it. It should be creamy, slightly grainy thanks to the almonds, but also have an umami like salinity and rich but fluffy and light texture.

Spread it onto a serving plate and garnish with pink peppercorns crushed between your fingers and sprinkled on top!
Want to learn more easy, healthy Mediterranean diet recipes? Sign up for my online course "Mastering the Mediterranean!"
Notes
Note: You can use seltzer or sparkling water instead of plain water to achieve an even fluffier texture.