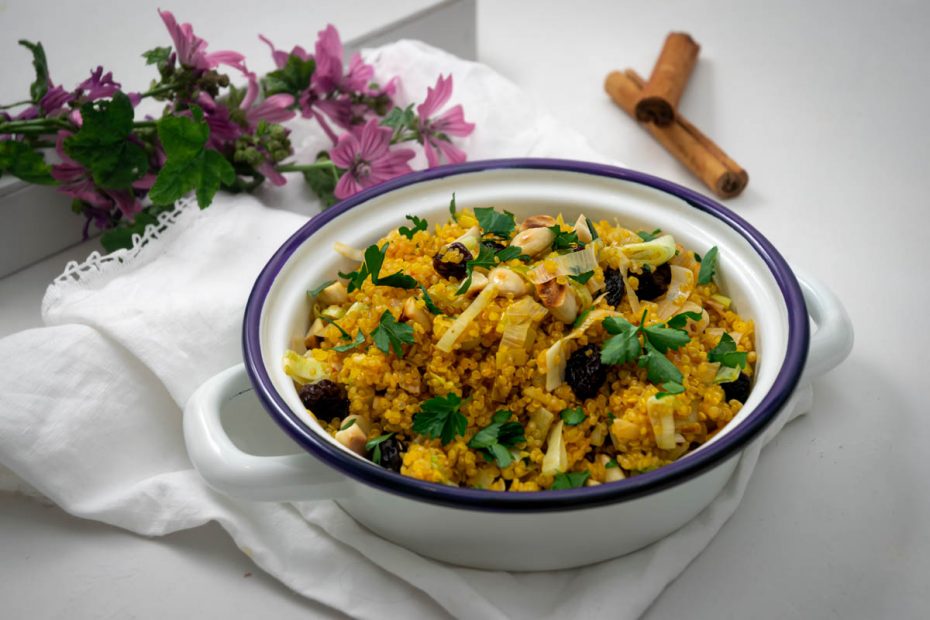 PRASORIZO WITH QUINOA (SAFFRON LEEK - QUINOA PILAF)
---
FUN FACT:Quinoa is a very new ingredient in the Greek kitchen and has been embraced for its versatility, healthfulness and ease of use. Quinoa is a great addition to the diet of anyone who wants to cut back on meat. A single cup of cooked quinoa has around 8 grams of protein, which is roughly the same protein content as a single egg. It has a nice, meaty texture, which makes it incredibly fulfilling and will keep you full for hours.There are three types of quinoa: white, red and black. The most common type is the white one, which has the most delicate and lightest flavor of the three. It also cooks the fluffiest of the three. Red quinoa keeps its shape, and it's nuttier and chewier than the white one. Black is a bit sweeter and earthier than the other two types and lends visual drama to recipes because of its striking color.
Ingredients
1

cup

quinoa

preferable unhulled

2

pinches

saffron

2

large leeks

trimmed, halved lengthwise and cut into crescents

3

Tbsp

extra virgin Greek olive oil

1

cinnamon stick

3

large garlic cloves

finely chopped

2

scant tsp tomato paste

½

cup

dry white or rosé wine

½

cup

blanched almonds or unsalted pistachios

toasted

½

cup

Greek currants or seedless dark raisins

Greek sea salt and pepper to taste

½

cup

chopped fresh mint or parsley
Instructions
Cook the quinoa according to package directions, adding a generous pinch of saffron and salt to the water. Drain and set aside.

Place the chopped leeks in the bowl of a salad spinner, fill with water and swish around so that any sand or dirt falls to the bottom. Scoop out into the strainer. Discard the water, and repeat the process.

Heat the olive oil in a large wide skillet over low heat and add the leeks and cinnamon stick. Cook until the leeks are soft, for about 10 to 12 minutes. Stir in the garlic. Add the tomato paste diluted in half a cup of wine. Stir until the liquid has cooked off.

Stir in the almonds or pistachios, currants or raisins, and salt to taste. Add the cooked, drained quinoa and the mint or parsley. Toss gently in the pan so that everything is combined. Taste for salt and pepper and adjust seasoning if needed. Remove from heat and serve.