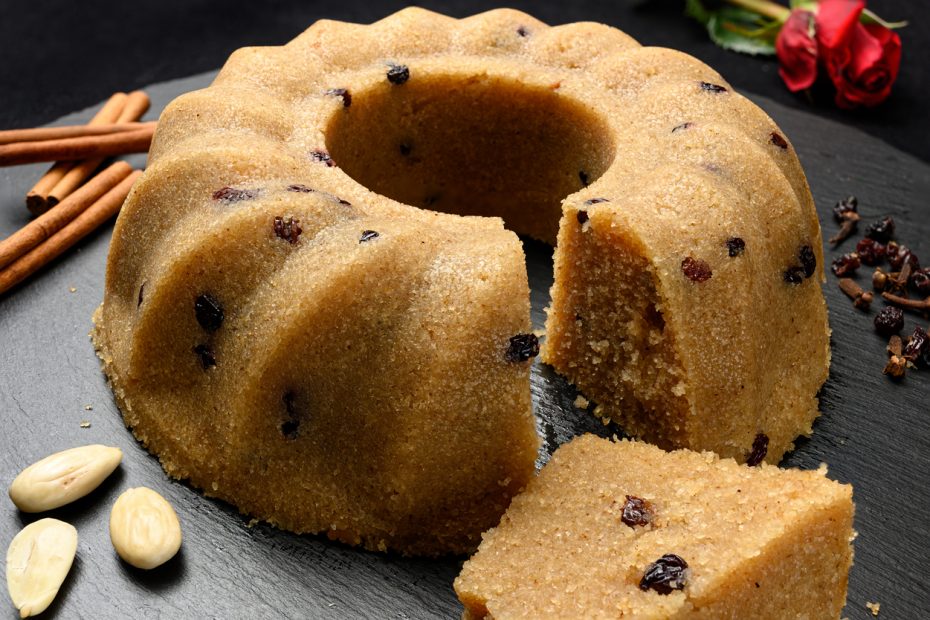 Halva, Orange-Spiced Semolina Pudding Cake with Dried Fruits and Nuts
---
If dessert can be healthy, halva would win the top prize. Halva Semigdalenios, or Semolina Halva, is one of the most traditional Greek desserts and it's often served during periods of fasting because it contains no dairy. Indeed, it's a traditional vegan desssert before Greeks even knew they had a great selection of vegan recipes in the traditional kitchen! It's easy to make and it's great as a dessert and even for breakfast. To find some of the artisinal Greek products you'll need to make this, visit my online shop
, where you'll discover a host of lovingly curated Greek ingredients.
Ingredients
2

cups/400 g sugar

3

cups/840 ml water

1

cinnamon stick

1

strip of orange peel

6-8

Greek krokos

saffron threads
Halva
2

cups/350 g coarse semolina flour

1

cup

lightly toasted

unsalted pistachios

2

teaspoons

grated orange zest

1

teaspoon

ground cinnamon

plus more for sprinkling as garnish

1/2

cup/100 g dark seedless Greek raisins or currants

Ground cinnamon for garnish

Lightly oil an 8-in/20-cm ring mold.
Instructions
To make the syrup: Combine the sugar, honey, and water in a saucepan and bring to a simmer over low heat, stirring occasionally until the sugar and honey have dissolved. Add the cinnamon stick and orange peel and simmer together for about 8 minutes, to make a loose syrup. Remove from the heat and set aside. Using a slotted spoon, remove the orange zest and cinnamon stick. Stir in the saffron.

To make the halva: Heat the olive oil in a large, wide pot over medium heat, and add the semolina. Cook, stirring, until the semolina begins to brown lightly, as if you were making a roux. This will take longer than you think! -- About 12 to 15 minutes. At that point, over low heat, using a ladle and with your face far from the pot's opening, very slowly add the syrup to the semolina mixture, stirring vigorously with each ladleful. Add the nuts, additional cinnamon, raisins and orange zest. Continue to stir the halva mixture over low to medium heat for another 15 minutes or so, until the contents of the pot peel away from the sides. Remove from heat and spoon into a bundt or jellow mold or into individual tartlet or muffin molds. Cover with a kitchen towel and let the halva set at room temperature. You can then chill it or serve it at room temperature.

I love it with a side of Greek yogurt or Vanilla ice cream and a small dollop of any of the great tasting citrus-based Greek spoon sweets.
Want to learn more easy, healthy Mediterranean diet recipes? Sign up for my online course "Mastering the Mediterranean!"