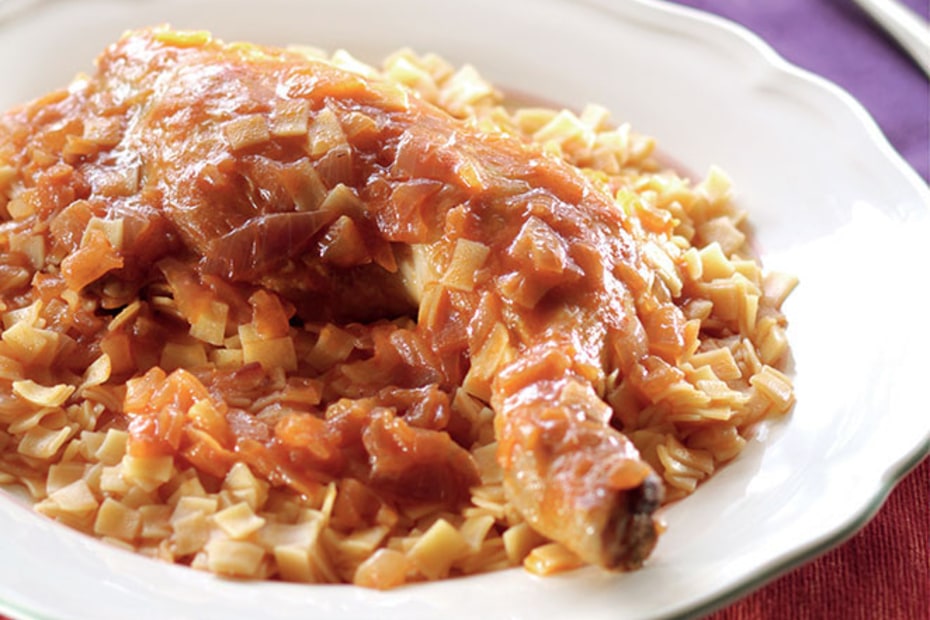 Kokoras me Hilopites - Egg Noodles with Braised Rooster
---
Roosters in the Greek countryside are the stars of Sunday and festive meals. This classic dish from the Peloponnese is an all-time favourite, comforting, easy, and great year-round.
Instructions
Heat 3 tablespoons of olive oil in a large pot over medium flame and cook the onion until it begins to turn golden, about 12 to 15 minutes, stirring. Pat dry the rooster and add it to the pot, turning to brown on all sides.

Dilute the tomato paste in 2 cups of water and pour this into the pot. Season generously with salt. Add enough water to cover the bird. Cover the pot, reduce heat, and simmer for about 2 hours, until the rooster or chicken is very tender and the meat practically falling off the bone.

Remove the rooster from the pot and set aside, tented with aluminum foil, to keep warm. Add 4 to 6 cups of water to the pot, bring to a boil and add the noodles. Simmer for 10 to 12 minutes until the noodles are very tender. The noodles should absorb most of the liquid in the pot but should be slightly soupy. Toss with remaining olive oil and transfer to a platter. Sprinkle generously with grated cheese. Place the bird in the center and serve.
Love chicken? Check out my online class "Wing It! – Great Mediterranean Chicken!"