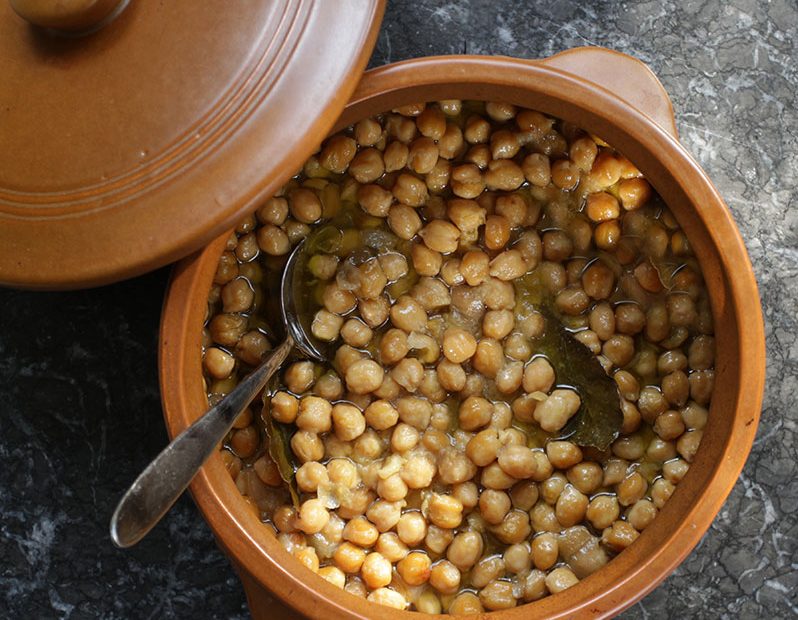 Clay-Baked Chick Pea Soup from Sifnos
---
Chickpeas are a national dish in several Cyclades islands, most significantly, though, in Sifnos. This soup, prepared in unique tapered clay pots that narrow at the mouth, called xespastaria in the local dialect, is the de rigeur Sunday meal. Every family has its own such pot and brings it on Saturday night to the local baker, preferably one with a wood-burning oven. The soup bakes all night, just in time for families to pick it up on the way home from church the next day. Sometimes, rice or dried corn is added to make the soup more filling. To find some of the artisinal Greek products you'll need to make this, visit my online shop
here
, where you'll discover a host of lovingly curated Greek ingredients.
Ingredients
1

teaspoon

baking soda

1

pound/450 g chickpeas

1

teaspoon

salt

plus more for seasoning the chickpeas

1

cup/115 g all-purpose flour

2/3

cup/160 ml water

2

large red onions

coarsely chopped

3

bay leaves
Instructions
Dilute the baking soda in a large bowl of cold water, add the chick peas and leave to soak, covered and refrigerated, overnight. Drain and rinse very well. Place the softened chickpeas on several large kitchen towels, fold over the towel to cover the chickpeas, and rub back and forth to loosen their skins. Remove the skins and discard.

In a medium mixing bowl, combine the flour and water. Mix with a fork until a dough mass forms, then knead until smooth and no longer sticky. Let it rest for 20 minutes, covered with plastic wrap, in a clean, lightly floured bowl.

Place the shelled chickpeas in a large ovenproof clay or earthenware pot with a lid. Add the onions, olive oil, bay leaves, salt, and enough water to cover by 3 inches/7.5 cm. Place the lid on top.

Roll out the dough into a thick rope and pat it around the rim of the clay pot, pressing with your fingers to seal.

Place the chickpeas in a cold oven. Light the oven to 260˚F/125˚C. Bake for 8 hours. Remove, cool slightly, break off the dough with a dull knife and serve.
Love soup? Check out my online class "Comfort in a Soup Bowl!" 
Notes
Variation: Add 2 pared, finely chopped carrots and 2 finely chopped celery stalks to the soup before baking. You can also add 2 to 4 tablespoons fresh, strained lemon juice to the soup before baking.
Adapted from The Country Cooking of Greece (Chronicle Books)