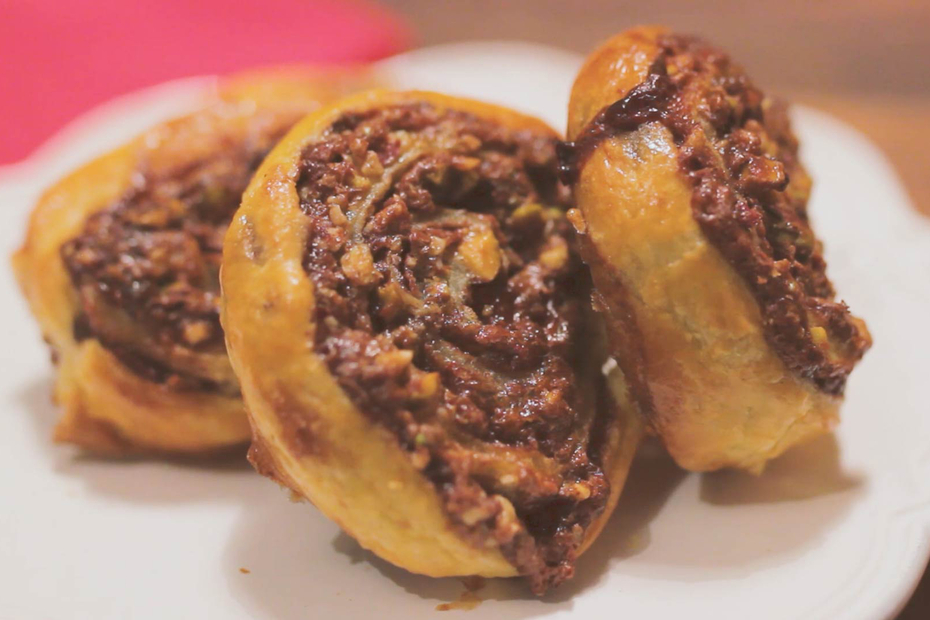 `Instant` Baklava Puff Pastry Rolls
---
Everyone loves baklava but it's not something a lot of people may want to attempt at home for fear of working with phyllo. In this version, the nut filling is the same, there's no syrup, and the puff pastry roll up is very easy. I've take a few liberties by adding chocolate and heat!
Ingredients
2/3

cup

coarsely ground roasted

unsalted pistachios, preferably Aeginis

2/3

cup

coarsely ground walnuts

½

teaspoon

Aleppo pepper or cayenne

optional

½

cup

sugar

1 1/2

teaspoons

cinnamon powder

½

teaspoon

ground cloves

1

teaspoon

grated orange zest

Pinch

of grated nutmeg

1

cup

chocolate hazelnut cream

1

egg

lightly beaten

Optional: confectioner's sugar or Greek honey

1

sheet puff pastry
Instructions
Preheat oven to 350F/170C. Line a baking sheet with parchment.

Combine the nuts, Aleppo pepper or cayenne, sugar, spices and orange zest in a bowl.

On a clean, dry surface, unroll the puff pastry sheet and gently spread the chocolate-hazelnut cream over the surface. Don't spread the chocolate cream all the way to the edge, to avoid it leaking out during baking. Sprinkle the nut and spice mixture over the chocolate.

Take one of the long ends of the puff pastry and roll gently inwards into a tight cylinder. Using a sharp knife, cut the cylinder into slices about 3/4 inch/2 cm wide. Place on the baking sheet, gently pinching the center to form a slight crescent, if desired. You can bake them as ovals as well.

Brush lightly with the beaten egg and bake for 12 – 15 minutes, until puffed and golden. Sprinkle, if desired, with confectioner's sugar, or drizzle with Greek honey. Serve.
Love savory pies and phyllo specialties? Sign up for my online class "Fearless Phyllo – Homemade!" to learn the secrets of making great, easy pies at home!