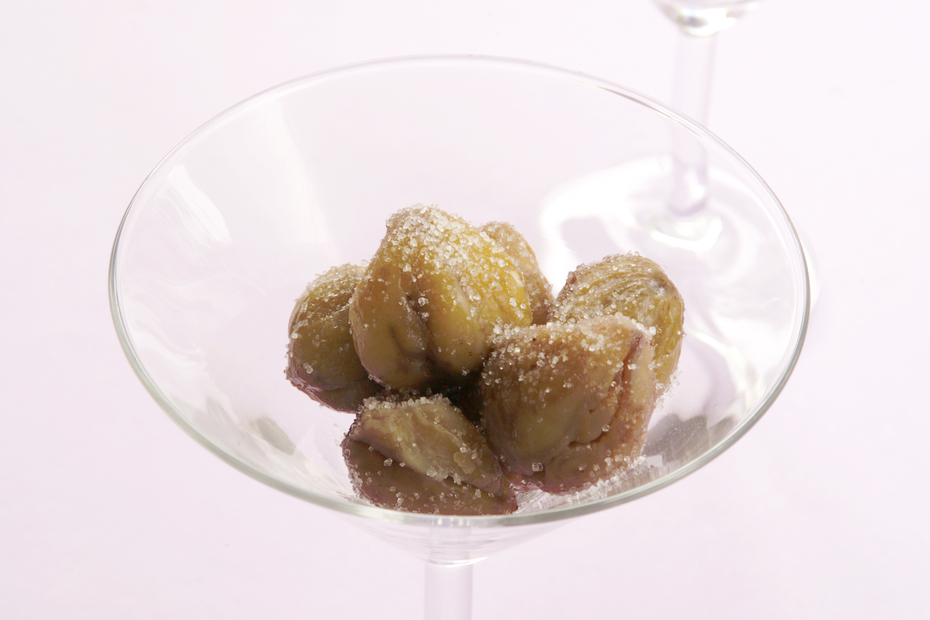 Drunken Chestnuts
---
Drunken chestnuts have long been a specialty around Christmas time in Italy, mainly Tuscany. In Greece, blessed with thousands of chestnut trees, this dessert is definitely borrowed. Instead of red wine, I use raki or ouzo. The anise flavor of the beverage pairs beautifully with the chestnuts' earthy sweetness.
Ingredients
2 ½

lbs.

fresh chestnuts or about 50 pre-peeled

sous-vide chestnuts

1 1/2

cup

Cretan raki or ouzo

2/3

cup

granulated sugar

Pinch

of salt
Instructions
If using fresh chestnuts, you have to roast them. Preheat the oven to 350°F/170°C. Using a sharp knife, make a slit on the rounded side of each chestnut. Spread the chestnuts in a single layer in a baking pan and bake for 30 minutes, or until the skins crack and curl a little. Remove the chestnuts from the oven. While they are still warm, remove the hard outer shells and the fuzzy inner skins

If using sous vide chestnuts, place the bags in boiling water for five minutes. Remove, cool slightly, open and transfer the chestnuts to a saucepan.

In a saucepan over low heat, combine the raki or ouzo, salt, and sugar and stir to dissolve the sugar. Be careful not to heat on too high a flame, lest the raki or ouzo ignite. Add the chestnuts and cook until the liquid is reduced to a thick syrup, about 30 minutes. Transfer the chestnuts to a serving dish and serve hot.