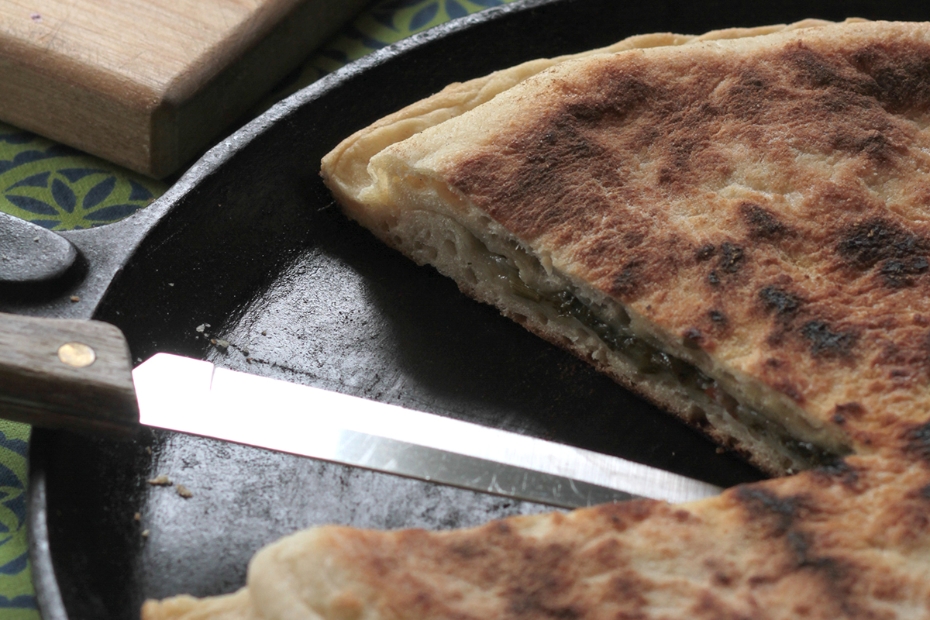 Ikarian Longevity Greens Pancakes
---
Ikarian cooking in the middle of the 20th century is what most of the island's nonagenarians remember vividly. They were the stone-hard years of the Occupation, a time of great hunger all over Greece. This pie, really a kind of pancake, stands out to me because it's cooked on a griddle, the better for using as little olive oil as possible, a dear commodity during those years; and because in lieu of olive oil are cracklings and lard, which an older generation of islanders always seems to recall with such fondness. You'll need a large cast-iron griddle for this. To find some of the artisinal Greek products you'll need to make this, visit my online shop
here
, where you'll discover a host of lovingly curated Greek ingredients.
Ingredients
For the filling
2

tablespoons

extra virgin Greek olive oil

2

red onions

finely chopped

3/4

pound

collard greens

lahanides in Greek, trimmed and chopped

2

cups

chopped wild fennel fronds or 1 cup chopped dill and 1 fennel bulb

finely chopped

1

large bunch mint

leaves only, chopped (about 1 ½ cups)

2

cups

mixed wild greens and herbs such as Swiss chard

sweet sorrel, sweet dandelion, chervil, and parsley (the wild greens on Ikaria are quite numerous and varieties that would be typically be part of this mix include obscure plants like wild poppy leaves (not the species opium is produced from), hartwort, and wild carrot leaves, among others).

Olive oil for brushing dough
Instructions
Prepare the dough: Combine the dry ingredients in the bowl of an electric mixer outfitted with a dough hook. Add the olive oil and warm water and mix with the dough hook until a ball forms. Increase the speed to medium and knead until smooth and silky, stopping the mixer now and then to push the dough mixture down with a rubber spatula. Remove the dough, shape into four equal balls, and place in an oiled bowl. Cover tightly with plastic wrap and set aside for about an hour, to rise and almost double in bulk. Gently punch to dough balls down a little, and set aside again, covered, for about 30 minutes to rest.

While the dough is resting a second time, heat two tablespoons of olive oil in a deep skillet or wide pot and add the onions and fennel bulb if using, cooking over medium heat until soft. Add the collards, fennel, mint and other wild greens or edible weeds, in batches if necessary, until wilted. Set aside to cool.

Take the first ball of dough and roll into a circle about 12 inches in diameter, or to a circumference slightly smaller than a large round flat griddle, which is what you will need to cook this. Brush the surface with a little olive oil. Fill it with half the greens mixture. Roll out the second piece of dough and place over the greens. Press the top and bottom rims together and roll inwards to form a decorative perimeter. Set aside on a large plate or work surface sprinkled with cornstarch. Repeat the whole process to make a second 12-inch pie. Cover with a kitchen towel for 20 minutes.

Over medium heat, warm a cast-iron skillet and brush with 1 teaspoon olive oil. Carefully slide the first pie into the skillet. Grill in the skillet over medium, or medium-low heat, until the bottom side is set and golden. Using a plate, flip it over and slide it back in on the uncooked side. When the bottom is golden and set, remove and repeat with the second pie.
Want to learn more easy, healthy Mediterranean diet recipes? Sign up for my online course "Mastering the Mediterranean!"
Love vegetables? Want to learn more great plant-based Mediterranean dishes? Enroll in my online  class "Baked Vegetable Classics!"