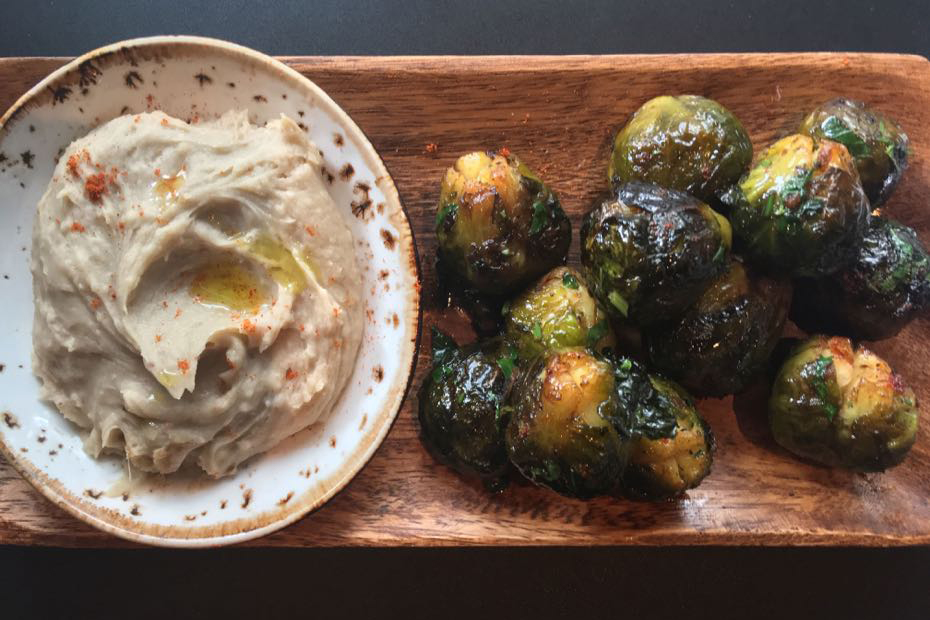 Honey Roasted Brussels Sprouts & Chestnut Skordalia
---
Chestnut skordalia is a traditiona recipe from Arcadia in the Peloponnese. The honey-roasted Brussel sprouts go beautifully with the underlying sweetness in the skordalia. This is a great dish for the Fall. To find some of the artisinal Greek products you'll need to make this, visit my online shop
here
, where you'll discover a host of lovingly curated Greek ingredients.
Instructions
Make Skordalia
Score the chestnuts with a sharp paring knife and place in a pot with enough water to cover by 2 inches (5 cm). Bring to a boil over high heat, reduce heat and simmer until the chestnuts are soft, about 35-40 minutes. Remove, drain and peel. Alternatively, you can use sous vide chestnuts, which are already shelled. Place the bag in boiling water according to package directions. In either case the chestnuts should be hot when you puree them for the skordalia.

While the chestnuts are boiling, dampen the stale bread cubes and squeeze out the excess moisture. Crumble the bread and place in the bowl of a food processor. Crumble the chestnuts and place them in the food processor bowl, too, together with the garlic cloves. Pulse on and off a few times to combine well.

With the motor running, slowly drizzle in the olive oil, vinegar and lemon juice, alternating between each, until the chestnut skordalia is very creamy. Add a little warm water if necessary to achieve the desired, smooth texture. Season to taste with salt and pepper and serve.

For the Brussel Sprouts

Preheat oven to 350F / 170C.

Using a sharp paring knife, trim off the tough bottoms of each sprout and cut the sprouts in half. Toss in an ovenproof glass baking dish with the remaining ingredients (oil, honey, salt, pepper, garlic, ginger, orange juice, balsamic) and roast until tender but al dente and lightly charred.

Serve warm or at room temperature with the chestnut skordalia.
Love vegetables? Want to learn more great plant-based Mediterranean dishes? Enroll in my online  class "Baked Vegetable Classics!" 
Notes
Note: You can also make the skordalia with potatoes instead of bread. Peel and boil two large potatoes in salted water. Remove when soft and mash lightly with a fork. Process in a food processor with the chestnuts, garlic, olive oil, lemon juice and vinegar. Season to taste.