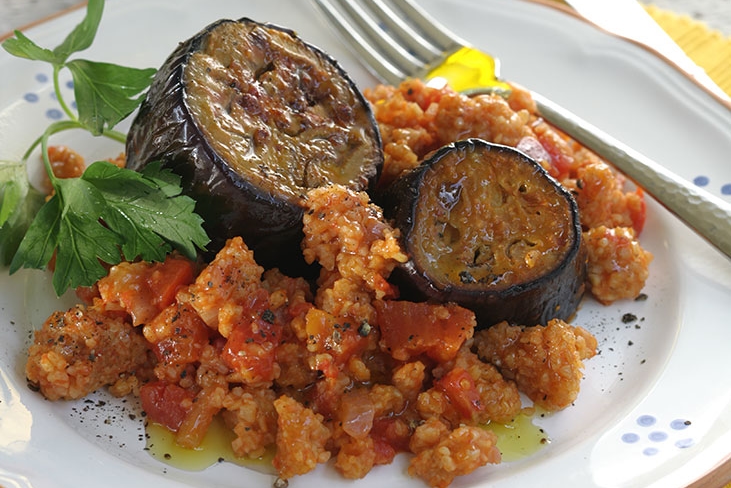 Eggplants Braised with Trahana
---
Eggplant and trahana, the Greek pebbly grain product that is one of the country's most unique and delicious ingredients, make for a wonderful one-pot meal, filling, healthy and pleasantly tart and sweet all at once. This recipe is adapted from a Cretan Diet classic, which calls for the local version of trahana, called xinohondros on Crete. To purchase trahana as well as other artisinal Greek products you'll need to make this, visit my online shop
here
, where you'll discover a host of lovingly curated Greek ingredients.
Ingredients
1

kg

2 lbs long, skinny eggplant, washed

120

ml

1/2 cup extra virgin Greek olive oil

2

large red onions

chopped

2

cloves

garlic

chopped

2 to

matoes

grated, skins discarded or 1 tablespoon tomato paste diluted in 240 ml (1 cup) of water

1/2

cup

chopped parsley

2

bay leaves

360

ml

1 1/2 cups or more of water or vegetable stock

250

grams

1 1/2 cups sour trahana or bulgur
Instructions
Remove the stems and cut the eggplant in thick slices about 2.5 cm (1 inch) thick. Soak them for 30 to 60 minutes in a large bowl with salted water to leach out any bitterness. With your hands squeeze out as much liquid as possible.

Heat the olive oil in a large nonstick frying pan and saute the onions and garlic until they begin to soften. Add the eggplant and continue to saute, stirring to color them on both sides. Mix in the tomatoes or tomato paste, parsley and bay leaves. Cover the pan to coax the liquid out of the tomatoes for five minutes, reduce heat to a simmer and if necessary add a little water or stock if the eggplants start to stick.

When the eggplants are half done, stir in the trahana or bulgur, add 240 ml (1 cup) of water or stock, cover and simmer until the liquid has been absorbed and the grains are tender. Check the pan from time to time to make sure they are not sticking and add more liquid as necessary. Season with freshly ground black pepper.
Notes
Click herehere to learn more about trahana, the world's oldest, healthiest fast food.