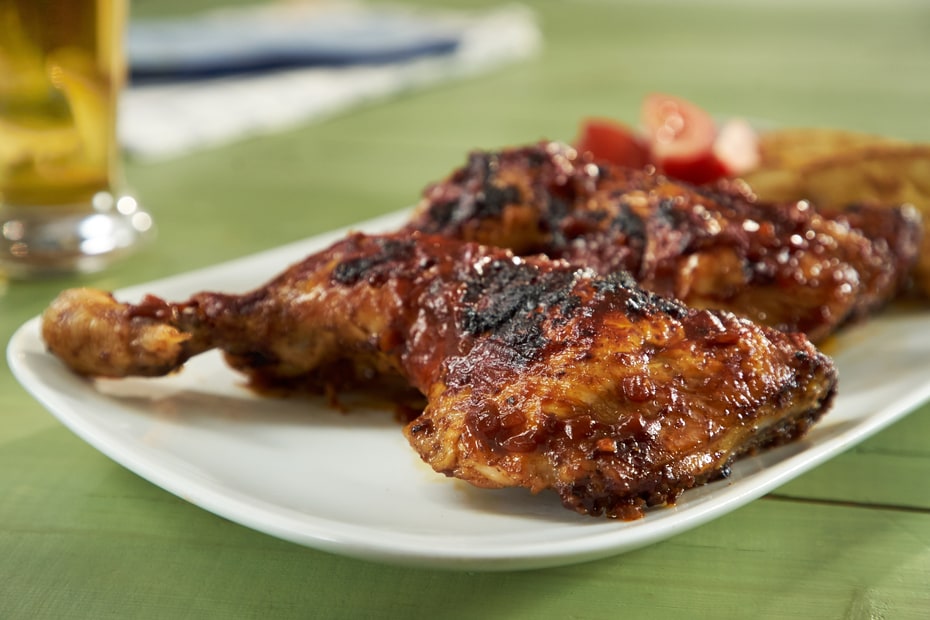 Grilled Chicken Legs with Tomato-Olive Barbecue Sauce
---
I love the idea of a Greek barbecue sauce. The one below is great with chicken legs or any chicken parts destined for the grill, but also works really well with steak and pork chops.
Instructions
In a medium saucepan over medium heat, warm 1/3 cup of olive oiland cook the onions for about 10 minutes, until soft and glistening. Stir in the garlic. Pour in the vinegards, tomato puree, tomato paste, olive paste, honey, Worcestershire sauce, steak sauce, ouzo, salt and pepper. Bring to a boil then reduce heat and simmer for 10 to 12 minutes untilthe mixture is a little thicker than ketchup. Remove from heat, divide and transger to two bowls. Let cool.

Light the broiler.

Toss the chicken legs with half the sauce. Place on a nonstick baking tray and broil 6 to 8 inches from heat source, turning on all sides, until browned, and tender, about 25 minutes total. Divide the remaining sauce into two batches and use one half to baste the chicken while broiling. Reserve the rest as a dipping sauce. Remove and keep warm for a few minutes.

Brush the pita rounds with olive oil and warm under the broiler on a baking tray or in a nonstick skillet for about a minute on each side.

Serve the chicken with the pita and the remaining dipping sauce on the side.
Love chicken? Check out my online class "Wing It! – Great Mediterranean Chicken!"