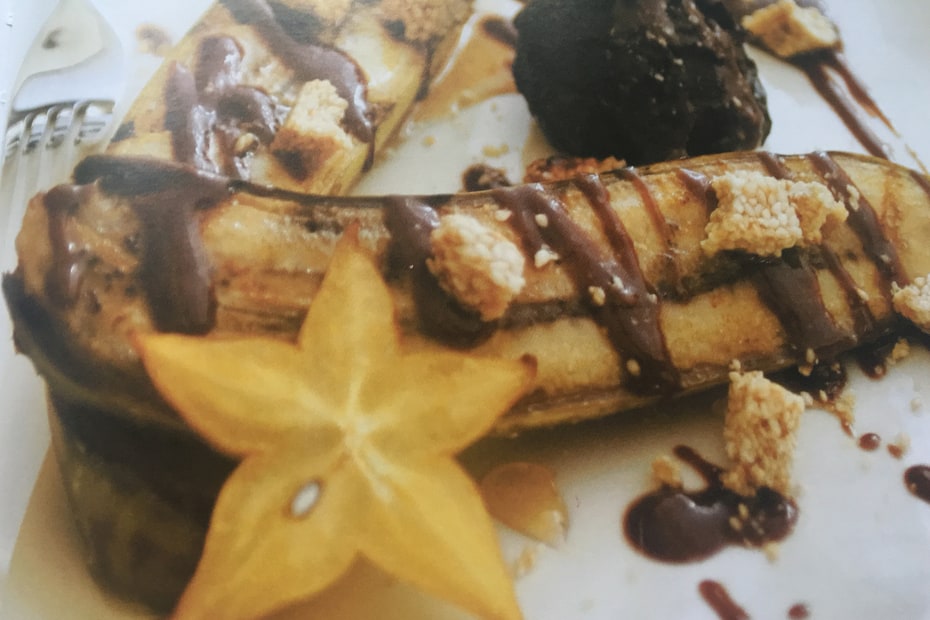 Grilled Banana Split with Pasteli & Chocolate-Hazelnut Cream
---
Banana splits are meant to be excessive, and this one gleefully is! I deck it out with a melted chocolate sauce made up mainly of Merenda, the Greek equivalent of Nutella – chocolate-hazelnut spread – and crushed pasteli, an ancient sesame-honey confection that we Greeks still love to eat.
Ingredients
1 1/2

cups

Nutella

Merenda or other chocolate-hazelnut spread

1/4

cup

heavy cream

1

teaspoon

almond extract

4

large

firm bananas, stem tips removed, split lengthwise,

with peel on

3

tablespoons

brandy or orange liqueur

2

tablespoons

honey

preferably Greek thyme or pine honey

1

scant teaspoon ground cinnamon

3

ounces

Greek pastelli

crushed, for garnish

8

scoops vanilla or chocolate ice cream
Instructions
Place the pasteli on a sturdy work surface over 2 pieces of parchment paper. Cover with another piece of parchment. and using a kitchen mallet, hammer until crumbled. Set aside. (The crushed pasteli can be made up to a week ahead and set aside in an airtight container in a cool, dry place.)

Heat the grill to medium.
Make the sauce
In a double boiler over medium heat, melt the Nutella or Merenda. Add the cream and almond extract and stir until blended. Keep warm, covered and in the double boiler.

Place the bananas cut side down on the grill and cook for about 3 minutes, until the bananas are lined with grill marks. In the meantime, whisk together the brandy, honey, and cinnamon. Turn the bananas over so that the flesh side is up, brush generously with the brandy mixture. Close the lid on the grill (make sure the vents are open), and continue cooking for another 2 to 3 minutes or until the bananas are cooked through. Remove carefully.

Peel the bananas and place two grilled halves in each serving dish. Top with two scoops of ice cream, drizzle with the sauce, and garnish with the crushed pasteli. Serve immediately.