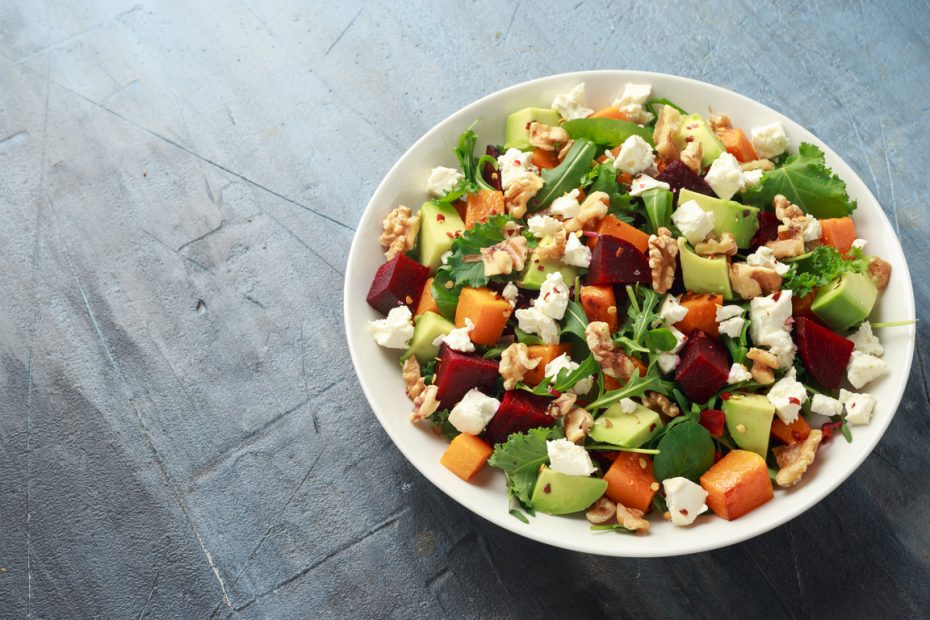 Greek Salad with Beets, Butternut Squash and Feta
---
Here's a great Greek salad that is also a perfect fall salad. Greek recipes with butternut squash are usually limited to savory pies, and Greek recipes for beets usually means simply boiling them and dressing them with extra virgin Greek olive oil and vinegar. But this sald is different! In the Greek diet and Mediterranean diet (basically the same thing!), everyone knows that the more colorful a salad, the healthier. This roster of Mediterranean diet ingredients blends together perfectly and creates a rainbow that is seasonal, but can also be enjoyed throughout the year. You can try it with other squashes, for example, and also other greens. Watercress would add a nice peppery flavor to this. The combination of greens, vegetables and nuts is very traditional on many a Mediterranean table. By adding Greek feta – and I stress the Greek in that – you add flavor, tang, and delicious protein! This could easily be a main course Greek salad and a whole meal in itself. Enjoy!
Ingredients
2

large beets

2

cups

cubed raw butternut squash

1

firm

ripe avocado, peeled and cut into 3/4-inch cubes

1

bunch arugula

trimmed

½

cup

coarsely chopped walnuts

1

cup

crumbled or cubed Greek feta
Instructions
Trim, scrub and rinse the beets and place them in a small pot with ample water. Bring to a boil and lightly salt the water. Cook the beets for about 40 minutes, or until they can be easily pierced with a fork. Remove, cool, peel and cut into 3/4-inch cubes.

While the beets are simmering, prepare the squash. Preheat the oven to 375F and line a baking tray with parchment. Toss the squash cubes with the extra virgin Greek olive oil and a little salt and pepper. Place in a single layer on the baking tray and roast for about 12 minutes, or until tender, firm, and lightly browned.

In a dry skillet, lightly toast the walnuts.

Trim and tear of chop the arugula and place in a mixing or serving bowl. Add the beets, roasted butternut squash, toasted walnuts, avocado and feta.

Whisk together all the ingredients for the salad dressing and drizzle into the salad. Toss and serve.
Want to learn more easy, healthy Mediterranean diet recipes? Sign up for my online course "Mastering the Mediterranean!"