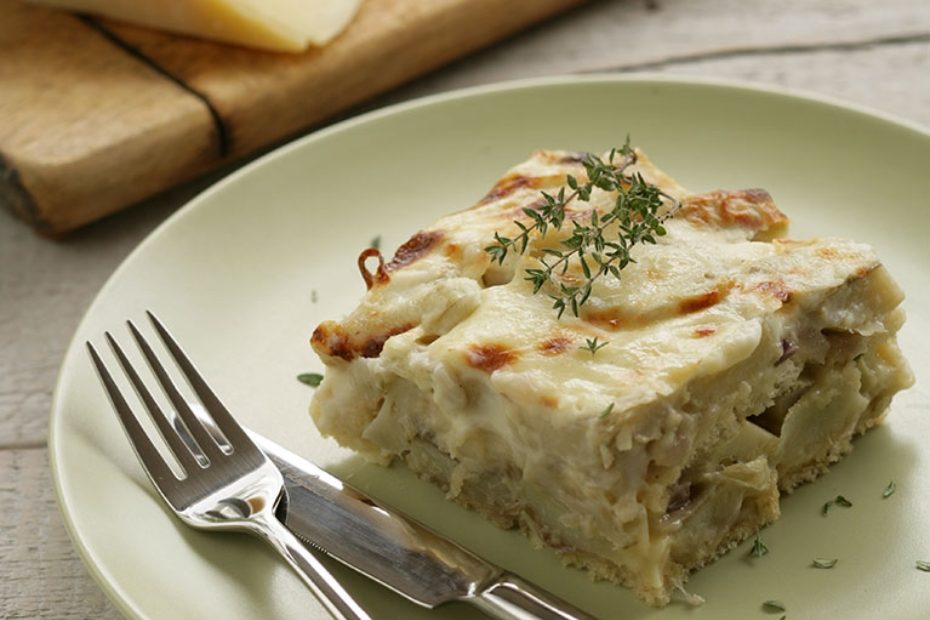 Artichoke Gratin from Tinos
---
In the mineral-rich soils of the Komis Plain, in the prefecture of Exomvourgo, on the eastern side of Tinos, the island's tiny, firm, complex-flavored artichoke flourishes. Local authorities organize a local artichoke festival every year. Artisans make pickled or olive oil-preserved artichokes, and taverna cooks created a kind of flan with the artichoke and bread, called it a pita—the Greek work for pie—and started a local trend. This is now a dish found in most of the tavernas on the island. To find the Greek olive oil and Greek cheese used in this dish,
click here.
Ingredients
6

tablespoons/85 g unsalted butter

3

tablespoons

all-purpose flour

3

cups/720 ml warm milk

Dash of grated nutmeg

1/4

cup/60 ml extra-virgin Greek olive oil

2

large red onions

very finely chopped

3

garlic cloves

minced

1

pound/450 g country bread

crusts removed, cut into 3/4-inch/1.8-cm slices

1

tablespoon

chopped fresh thyme

12

small fresh or frozen

defrosted artichoke hearts

1 1/2

cups/600 g grated graviera cheesegrated graviera cheese
Instructions
In a medium-sized sauce pan over medium heat, melt 3 tablespoons of butter until bubbly. Add the flour and whisk for about 5 minutes, until it turns lightly golden. Pour in the milk and whisk continuously over medium heat until the béchamel thickens. Season with salt and pepper to taste and nutmeg. Remove, cover with a cloth, and set aside.

Bring a medium pot of salted water to a rolling boil and blanch the artichoke hearts for about 3 to 4 minutes, until soft. Remove with a slotted spoon and set aside. When cool enough to handle, roughly chop the artichokes.

In a medium, heavy skillet over medium heat, melt the remaining butter and cook the onion until wilted and lightly colored, about 10 minutes. Stir in the garlic and stir all together for about 1 minute.

Preheat the oven to 400°F/200°C. Butter 13x9x2-inch/32x22x5-cm baking dish.

Place as many slices of bread as will fit in one layer in the buttered baking dish. Spoon half the onions evenly over the bread. Sprinkle with 3 tablespoons of cheese, a little thyme, salt, and pepper. Spread half the artichokes over the onions and sprinkle with half the remaining cheese. Gently press remaining bread slices over the artichokes, in one layer. Spread the onions, herbs, artichokes, and cheese in the same order, finishing with a layer of artichokes and cheese. Pour the béchamel over the top spreading it evenly. Bake in the preheated oven until the béchamel is set and golden. Remove, cool slightly, and serve.
Love vegetables? Want to learn more great plant-based Mediterranean dishes? Enroll in my online  class "Baked Vegetable Classics!"