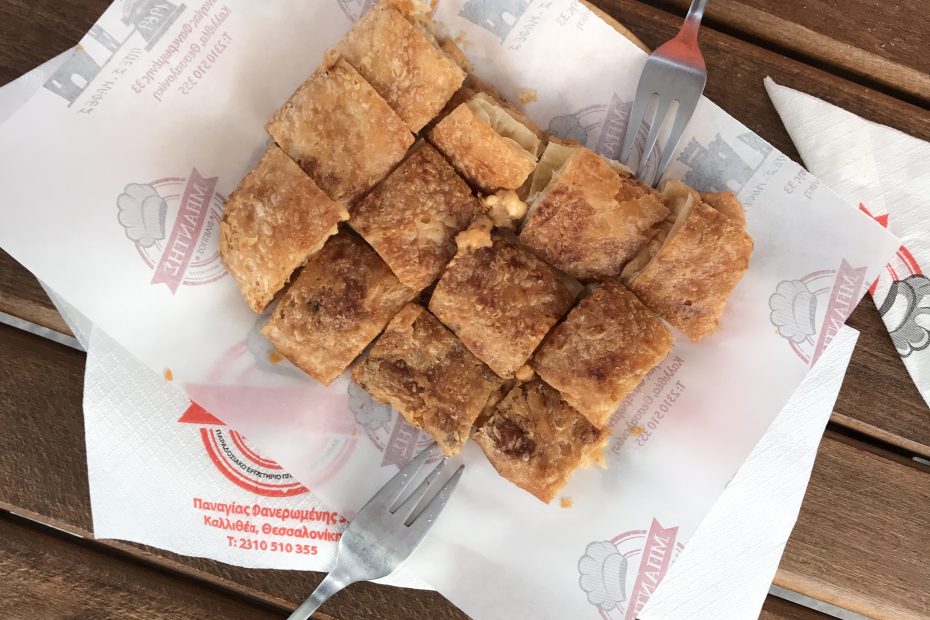 Bougatsa
---
Bougatsa is arguably the most famous pastry of Thessaloniki. It's typically a crispy concoction of paper-thin phyllo and a creamy, silky-sweet filling. Bougatsa can also be savory. This recipe is adapted from one of the city's most famous bougatsa places, Bandis, whose family has been making this classic Greek dessert and wonderful Greek breakfast treat for generations. The recipe below, however, is a little different – reconstructed – from what you will see by watching the episode. The reason for that is easy enough to understand: Bandis's bougatsa is made with his family's secret recipe!
Ingredients
Pastry
4

cups/ 500g all-purpose flour

A pinch of salt

½

cup/ 50g butter melted

kept at room temperature

1

cup

and 1 Tbsp/ 250g water

lukewarm

1 ¼

cups/ 300g butter melted to brush over the pastry
Cream filling
2

cups/ 500ml full-fat milk

¾

cup/ 150g sugar

1

tsp

vanilla extract

¼

cup/ 50g cornstarch

4

egg yolks

2

Tbsp/ 20 g butter

melted -kept at room temperature

For serving

Cinnamon
Instructions
Add flour, salt, water, and 50g butter in a mixer or food processor and start mixing until you form a flexible dough. Cover the dough with plastic wrap and let it rest for 20 minutes.

Butter a baking tray with four tablespoons of butter (out of the 300g/ or 11 oz). Divide the rested dough into four pieces and move them into the baking tray. Drizzle a tablespoon of butter on the surface of each piece of dough. Cover the dough with plastic wrap and let them rest for 30 more minutes.

Meanwhile, prepare the custard filling by cooking milk with half of the sugar in medium heat until it simmers. When sugar is fully incorporated in the milk, switch off the heat.

In a bowl, whisk together the remaining sugar, vanilla, eggs, and cornstarch until creamy and thick. Slowly add ladlefuls of the hot milk mixture to the egg mixture while whisking vigorously, so it doesn't curdle.

When the cream thickens, whisk in the butter. Cover it with plastic wrap and let it cool.

Butter a clean, smooth work surface well, place one of the buttered and oiled pieces of dough and start spreading it with a rolling pin. Keep spreading the dough until it's super thin and keep adding melted butter so that your dough doesn't break. Make two pastry sheets out of every piece of dough. The sheets should be larger than your baking tray.

Using a pastry brush, butter the bottom and the sides of a baking tray. Layer four sheets one by one on the bottom of the tray, buttering each layer thoroughly. Tip in the cream filling and smooth the surface with a spatula.

Layer four more sheets of phyllo on top of the cream, buttering each as always on every sheet. Trim the excess phyllo with a knife and roll the rest of the edges inwards with your hands. Brush the top with plenty of butter and score the top in portion-size pieces.

Bake in a preheated oven at 350 F / 180 C, for about 30-40 minutes, until the phyllo is gold and crispy. Let it cool off before cutting. Sprinkle with cinnamon and icing sugar, and serve.
Love savory pies and phyllo specialties? Sign up for my online class "Fearless Phyllo – Homemade!" to learn the secrets of making great, easy pies at home!