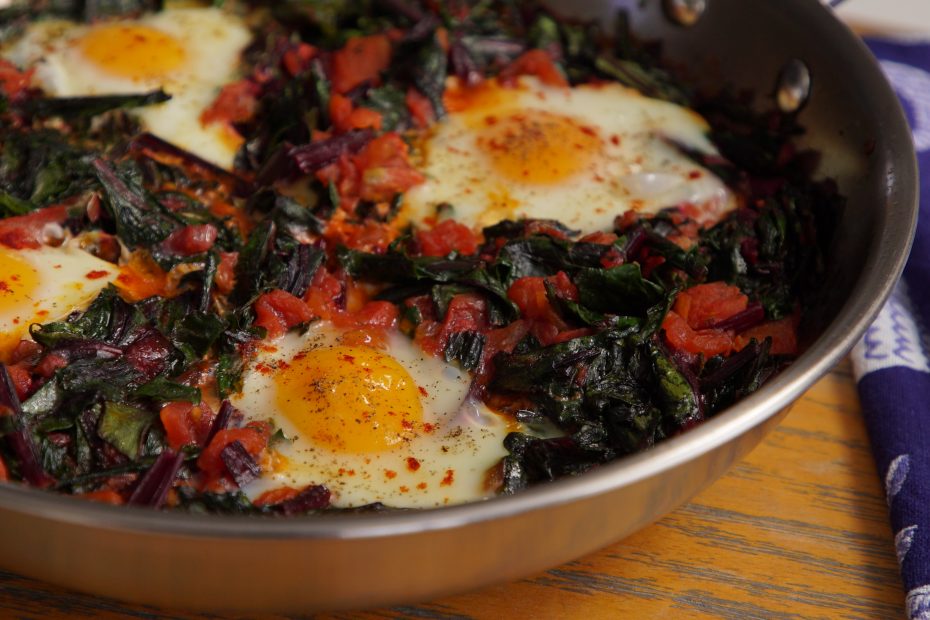 Eggs in a Hole, Cooked in Greens
---
Here's an old Greek recipe found in varying renditions throughout the country. The combo of eggs and greens is delicious. Add a little feta to the meal and you've got a sure fire winner! To find some of the artisinal Greek products you'll need to make this, visit my online shop
here
, where you'll discover a host of lovingly curated Greek ingredients.
Ingredients
1

pound

½ kilo beet greens

2

tablespoons

extra virgin Greek olive oil

1

medium onion or small leek

trimmed, thoroughly washed, and chopped

1

small fennel bulb

1

garlic clove

chopped

1/2

teaspoons

sweet paprika

1/2

teaspoons

cayenne pepper or hot paprika

1/2

cup

chopped mint

½

cup

chopped peeled plum tomatoes

canned is fine

4

large eggs
Instructions
Cut off the tough stems of the greens and discard. Wash the greens thoroughly in several changes of water and spin dry or drain in a colander. Remove the stems and set aside. Coarsely chop the greens.

Heat 3 tablespoons olive oil in a large, deep, nonstick skillet and cook the leek or onions and fennel over medium-low heat until wilted and lightly browned, about 10 minutes. Add the garlic, paprika, and cayenne and stir for 3 to 4 minutes. Add the greens, cover the pot, and wilt, about 8 minutes. Add the tomatoes. Simmer for 10 to 15 minutes, until most of the liquid has evaporated. Season to taste with salt and pepper.

Using a wooden spoon, make two or four wells in the cooked greens. Carefully break each of the eggs into the wells. Cook until the yolks and whites are set. Remove and serve immediately with a good piece of crusty bread.