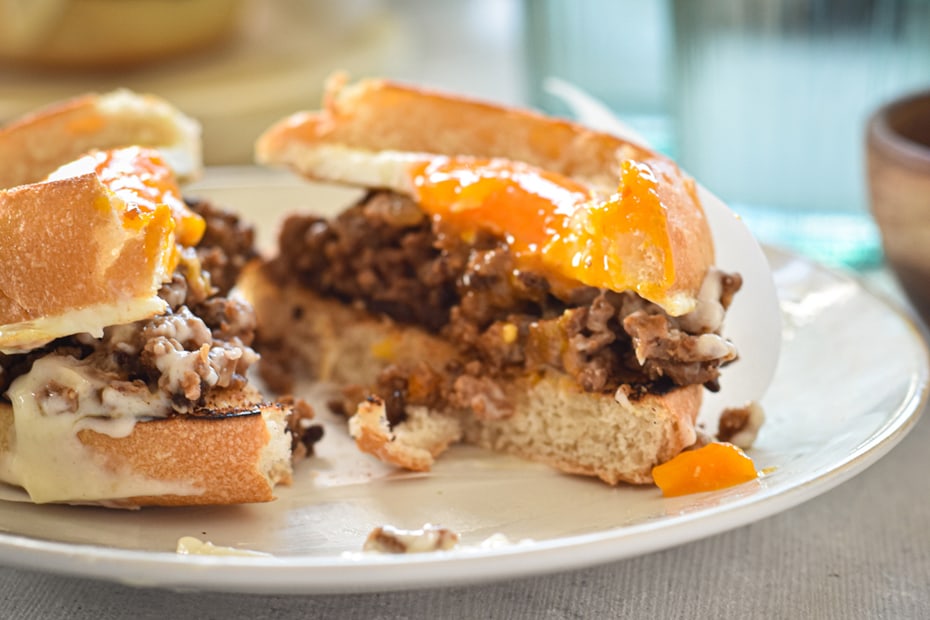 Egg in a Hole Pastitsio Sandwich
---
Not your typical pastitsio or your typical sandwich, that's for sure! This construction takes a little time but it's fun to make, looks great and will definitely draw a few ooohhs and aahhhs at the table. It's one of my new favorite Sunday brunch treats.
Ingredients
2

tablespoons

extra virgin Greek olive oil

1

large red or yellow onion

finely chopped

¾

pound

ground beef

2

garlic cloves peeled, or pre-peeled

Greek garlic cloves in brine

2

tablespoons

tomato paste

1/2

cup

dry red wine

2

teaspoons

petimezi

1

generous teaspoon cinnamon powder

½

teaspoon

ground allspice

Greek sea salt

and freshly ground black pepper to taste

1

tablespoon

butter

1

scant tablespoon all-purpose flour

1

cup

whole milk

3

tablespoons

shredded Greek graviera

kefalograviera, feta, gruyere or parmesan

Pinch

of grated nutmeg

8

thick slices of good quality sourdough bread or brioche

4

eggs

Olive oil for crisping the bread
Instructions
Make the ground meat filling: In a large skillet over medium flame, heat the olive oil and cook the onion, stirring, until wilted and lightly browned, about 10 minutes. Add the ground meat and cook until it is no longer pink, about 10 minutes, stirring. Add the chopped garlic and stir all together for about a minute. Add the tomato paste, wine, petimezi, cinnamon, allspice, salt and pepper and cook the ground meat mixture, covered and over low heat, until the meat is done and the pan juices have cooked off, about 20 minutes.

While the meat mixture is simmering, make the béchamel: In a small saucepan, melt the butter and whisk in the flour. Stir with a whisk for a few minutes until the mixture is smooth and the flour no longer smells raw. Whisk in the milk and add the nutmeg. Stir with the whisk until the béchamel begins to thicken, about 5 – 8 minutes. Remove from heat, whisk in the shredded cheese and season to taste with salt and pepper.

Using a small round glass or cookie cutter, cut out a two-inch circle in four of the eight bread slices. Heat a tablespoon of olive oil in a large nonstick or cast iron skillet and place two slices of bread with the hole at a time in the skillet. Cook until colored very lightly on the bottom side and flip. Add 1 – 2 more teaspoons of olive oil and swirl it around in the skillet. Then, carefully break an egg into each hole. Cover the skillet and cook the egg in the hole over low heat until set. Carefully remove with a spatula and set aside. Repeat with remaining two cut out slices and eggs.

Replenish the olive oil and crisp the remaining four slices of bread, turning them to brown lightly on both sides. Remove.

Combine all but 2 tablespoons of the béchamel with the ground meat mixture. Spoon this combination evenly onto the four crisped whole bread slices. Place the egg-in-the-hole slice on top and serve, drizzled evenly with the remaining béchamel.