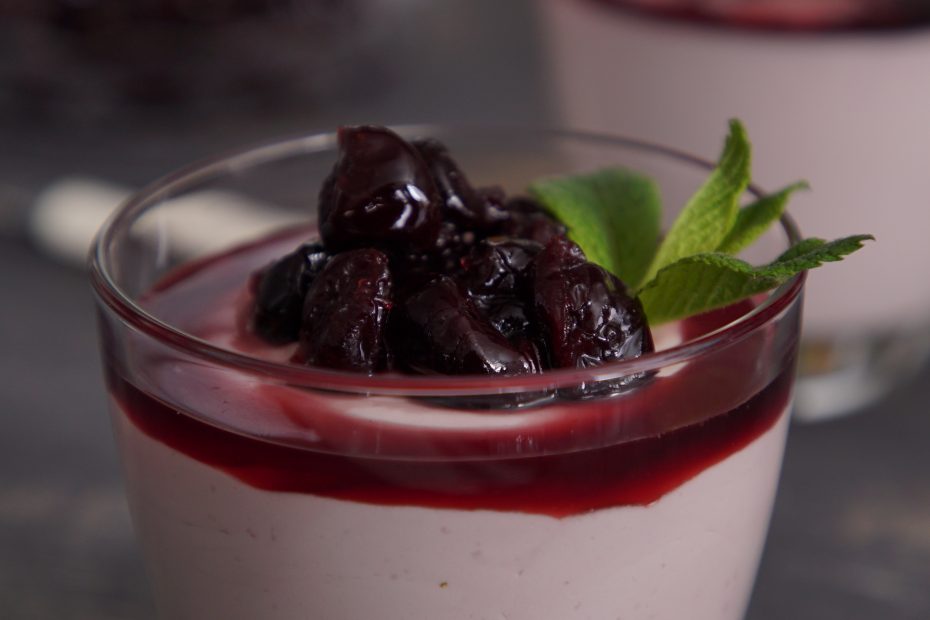 Sour Cherry Greek Yogurt Mousse
---
Vyssino, or sour cherry spoon sweet, is one of the best-loved Greek fruit preserves, made in mid June, when sour cherries are in season. It's a painstaking sweet to prepare. The cherries are pitted, of course, a job traditionally done not with a modern cherry pitter, but with a sewing needle to keep the delicate fruit intact while removing its seed. You can find vyssino, as well as other Greek spoon sweets and lovingly curated artisinal products at my online shop
here
.
Ingredients
1

envelope

1 tablespoon unflavored gelatin

2

cups

Greek sour cherry spoon sweet

1/3

cup

sugar

1/2

teaspoon

vanilla

1

cup

plain yogurt

1

cup

well-chilled heavy cream
Instructions
In a small saucepan sprinkle the gelatin over 1/4 cup cold water, let it soften for 1 minute, and heat the mixture over low heat, stirring, until the gelatin is dissolved.

In a blender blend together the sour cherry purée, the sugar, and the vanilla, add the gelatin mixture, and blend the mixture well. Transfer the mixture to a bowl and stir in the yogurt.

In a chilled bowl beat the cream until it holds stiff peaks, fold it into the cherry mixture gently but thoroughly, and divide the mousse among 4 dessert glasses. Chill the mousses for at least 4 hours or overnight. Garnish the mousses with the sour cherry spoon sweet, drained.