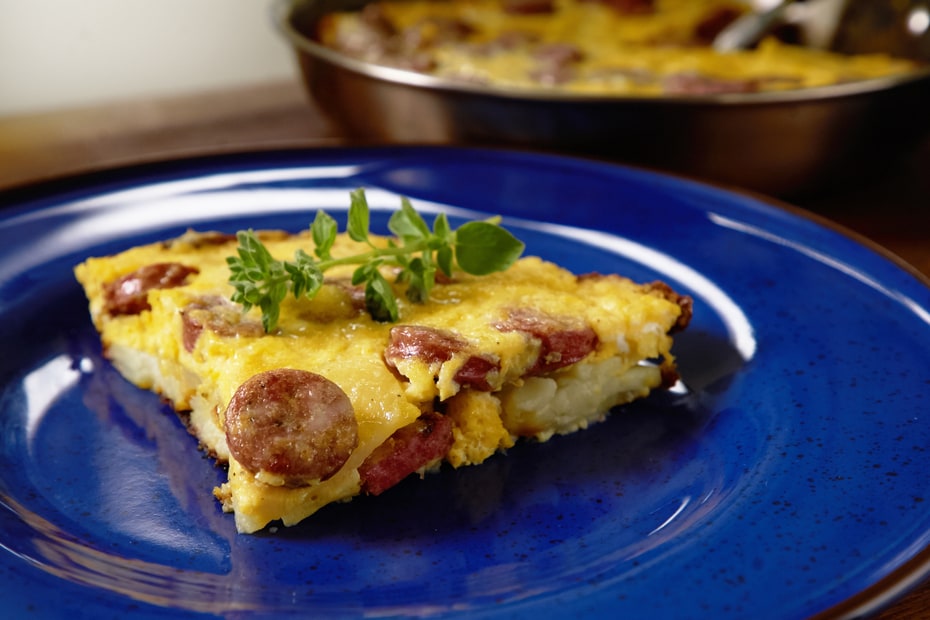 Froutalia Omelet With Sausages And Potatoes from Andros
---
This is surely one of the great regional Greek egg dishes, and a specialty of Andros and Tinos. Basically, it is a thick, slowly-cooked (stovetop) omelet filled with potatoes and local sausage.
Ingredients
2

tbsp.

unsalted butter

2

tbsp.

extra-virgin Greek olive oil

4

large waxy potatoes

peeled and cut into 1/4-in/ 6-mm-thick rounds

2/3

lb/300 g fennel-flavored pork sausage

cut into 2-in/5-cm pieces

8

eggs

4

tbsp.

grated kefalograviera cheese

6

tbsp.

milk
Instructions
Heat the butter and olive oil together in a heavy 12-in/30-cm frying pan over high heat. Add the potatoes and sausage and season with salt and pepper. Reduce the heat to medium and cover the frying pan. Let the potatoes and sausage cook slowly for 20 to 25 minutes, shaking the pan occasionally to keep them from sticking. The potatoes should be cooked through, crisp and lightly browned.

In a small bowl, beat together the eggs, cheese, and milk. Season with a little pepper and salt if desired. Pour the eggs over the potatoes and sausages, tilting the frying pan so that the eggs are distributed evenly. Cover and cook slowly over low heat, tilting the pan a few times until the eggs are set on the bottom, 4 to 5 minutes. Have a large plate ready. Remove the frying pan from the heat and place the plate over it (use an oven mitt). Flip the froutalia onto the plate and slide it back in the frying pan to cook until set on the other side, about 3 minutes. Slide onto a serving platter and serve hot.