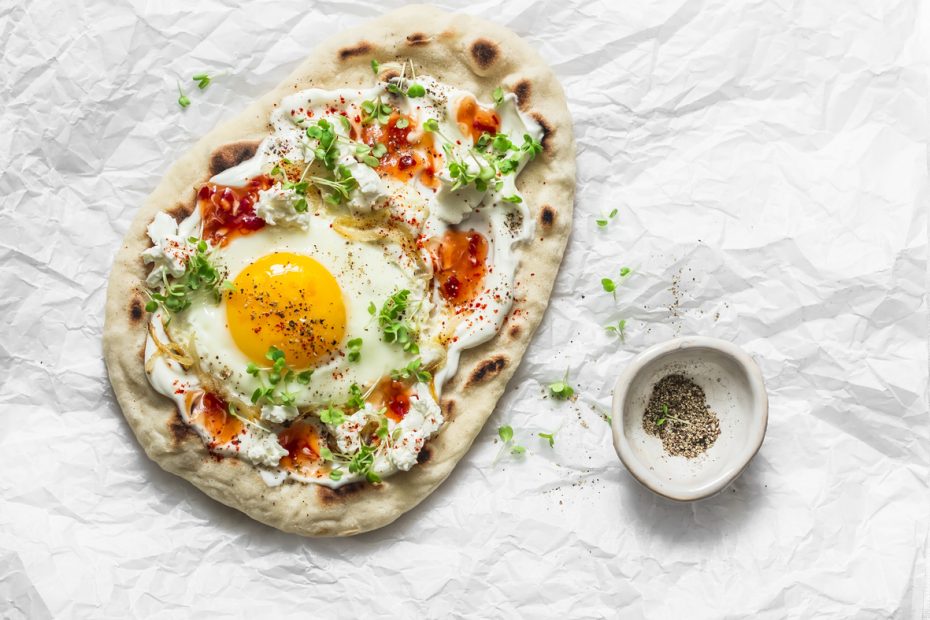 Sunny Side Up Egg Over Spiced Greek Yogurt & Pita Bread
---
The combination of sunny-side up or poached eggs and thick, sour Greek yogurt is unique to the Eastern Mediterranean and one of the most delicious combinations in all Mediterranean cooking. Indeed, eggs, ancient and wholesome, are one of the most important Mediterranean diet ingredients; yogurt, too, is an ancient food and one of the most revered fermented food products in the world. Add a little bread, a little extra virgin Greek olive oil and some spice and you've got a combination made in heaven perfect as a hearty breakfast, quick meal or snack.
Ingredients
Pinch

of Greek salt

4

tablespoons

Greek yogurt

Pinch

of cayenne

1

shallot

sliced thin

1

garlic clove

sliced thin

4

tablespoons

extra virgin Greek olive oil

plus more if needed

2

large eggs

preferably organic

Chile oil

as desired

2

pieces

of oval or round flatbread

2

tablespoons

chopped microgreens

basil, parsley or chives
Instructions
Whisk together the yogurt, salt, cayenne and one tablespoon of olive oil, and set aside. You can prepare this a day ahead.

In a small nonstick skillet, lightly cook the shallot and garlic slices for a few minutes over medium heat, to soften. Remove and set aside.

In the same skillet heat two tablespoons of olive oil and crack the eggs one at a time into the skillet, to make two sunny-side up eggs. Cook until the white are firm but the yolks still a little runny.

In a separate skillet, warm the flat bread, brushing each side with a little olive oil.

Place the flat bread on two separate plates, spread half the yogurt mixture over each piece of flatbread and place an egg on top. Drizzle with chile oil and sprinkle with microgreens or chopped chives, parsley or basil, and serve.
Want to learn more easy, healthy Mediterranean diet recipes? Sign up for my online course "Mastering the Mediterranean!"
Want to learn more easy, healthy Mediterranean diet recipes? Sign up for my online course "Mastering the Mediterranean!"