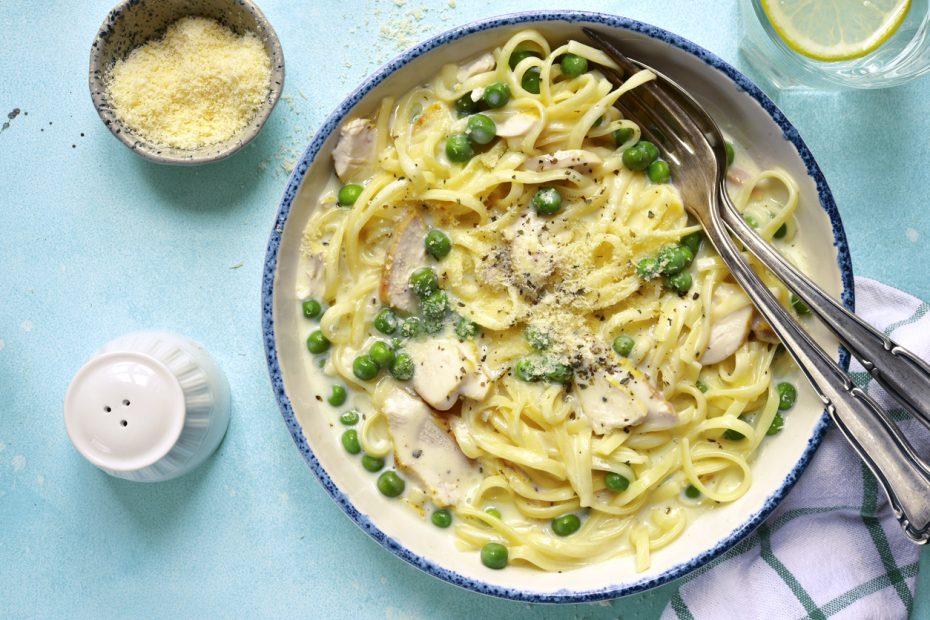 Linguine al Greco with Leftover Chicken, Peas & Greek Yogurt
---
I've been tossing pasta with yogurt in various forms since I was a kid. This Greek pasta recipe, for linguine (or any other ling extruded pasta) tossed with tangy Greek yogurt, extra virgin Greek olive oil, peas and feta is a perfect weeknight or brunch option and speaks tomes to the vibrant simple cooking that defines both the Greek and Mediterranean diets. Try it with fresh peas and add a little fresh tarragon, mint or basil to the mixture too, for something even more enticing!
Ingredients
1

cooked skinless

boneless chicken breast

1

cup

shelled fresh or frozen peas

4

tablespoons

extra virgin Greek olive oil

2

tablespoons

unsalted butter

1

shallot

sliced thin

2

garlic cloves

sliced paper thin

Grated zest of 1 lemon

1 1/2

cups

Greek yogurt

1

large egg yolk

½

cup

grated parmesan or 2/3 cup finely crumbled Greek feta

1

pound

linguine

spaghetti or fettucine
Instructions
Cut the chicken breast in half and then into thin slices about 1 ½-2 inches square. Set aside.

Bring a large pot of salted water to a rolling boil and cook the pasta according to package directions. While the pasta is cooking make the sauce.

Bring a small pot of salted water to a rolling boil and blanch the peas for 2 minutes. Remove and drain in a colander.

Heat 2 tablespoons of olive oil and the butter over medium heat in a skillet and cook the shallot for a few minutes, stirring, to soften and color lightly. Stir in the garlic peas and chicken slices and cook together just to warm through. Season to taste with salt and pepper. Remove and stir in the lemon zest.

In a large mixing bowl, whisk the egg yolk, yogurt, and crumbled feta or grated parmesan. Slowly drizzle in a ladleful of the pasta cooking liquid, whisking. Drain the pasta, reserving one more cup of its cooking liquid.

Toss the hot pasta with the yogurt mixture, adding the peas-and-chicken mixture, the remaining olive oil and enough of the reserved pasta cooking liquid to make a creamy sauce. Season to taste with additional salt and pepper and serve.
Love chicken? Check out my online class "Wing It! – Great Mediterranean Chicken!"
Want to learn more easy, healthy Mediterranean diet recipes? Sign up for my online course "Mastering the Mediterranean!"
Want to learn more easy, healthy Mediterranean diet recipes? Sign up for my online course "Mastering the Mediterranean!"