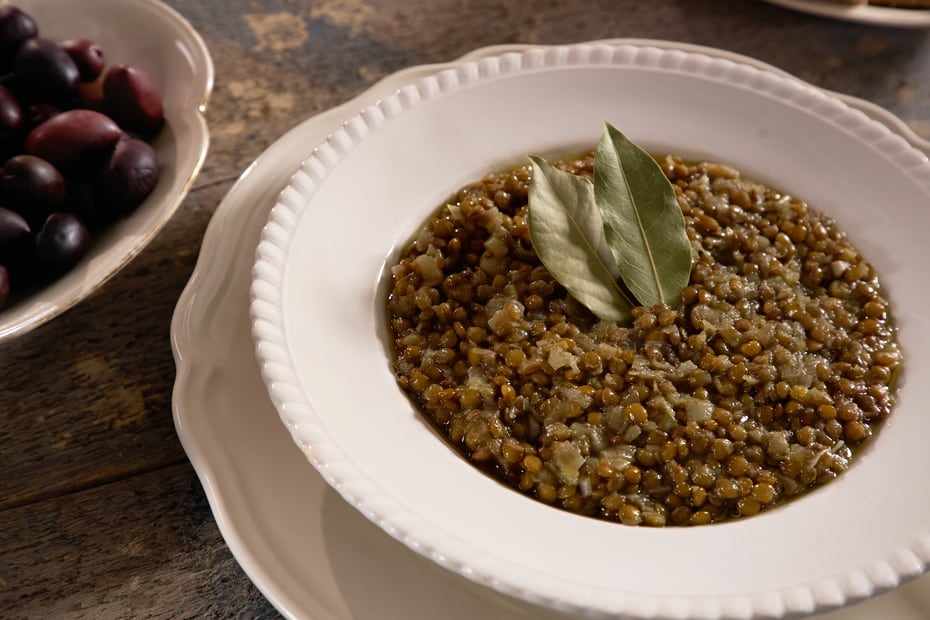 Clay-Baked Minoan Lentils - Minoikes Fakes
---
One of the most fascinating aspects of Greek cuisine is the continuity of use of so many ingredients from prehistoric times to the present. Among the oldest ingredients still revered today are honey, olive oil, herbs, and native pulses, first among which is the humble lentil. Honey, together with spices and herbs, was often used to flavor savory dishes in antiquity as well. The recipe that follows is my adaptation, with a fair amount of poetic license!
Ingredients
⅔

cup

160 ml extra-virgin Greek olive oil, plus more if needed

2

large leeks

trimmed, washed well, and chopped

4

garlic cloves

chopped

2

bay leaves

4

dried Greek oregano sprigs

1

tablespoon

coriander seeds

crushed in a mortar with a pestle or in a spice grinder

1½

teaspoons

cumin seeds

crushed in a mortar with a pestle or in a spice grinder

¼

cup

60 ml Greek thyme honey, pine honey, or blossom honey

2

tablespoons

red or white wine vinegar

Water or vegetable broth
Instructions
In a large wide pan or flameproof clay casserole, heat 3 tablespoons of the olive oil over medium heat. Add the leeks and cook, stirring, for about 8 minutes to soften. Stir in the garlic. Add the lentils and stir to coat with the oil. Pour in enough water to cover the lentils by 2 inches (5 cm). Add the bay leaves and oregano sprigs, raise the heat slightly, and bring to a boil. Cover, reduce the heat to low, and simmer for about 30 minutes, until the lentils are al dente but not completely cooked. The lentils will have absorbed almost all the water by the time they are ready to come off the stove. Discard the oregano sprigs and bay leaves.

Preheat the oven to 375ºF (190ºC).

If you were using a metal pan, empty the lentils into a clay or glass baking dish with a lid. Toss the lentils with the remaining olive oil, the coriander, cumin, honey, vinegar, and salt to taste. Add enough water or vegetable broth to cover the lentils by about ½ inch (1.5 cm). Cover and bake for 45 minutes to 1 hour, until the lentils are tender but still retain their shape. Check on the liquid content during baking and add additional water or broth as needed. The end result should not be soupy or too wet, but rather the lentils should have absorbed all the liquid in the pan, expanded nicely, and not disintegrated or dried out.