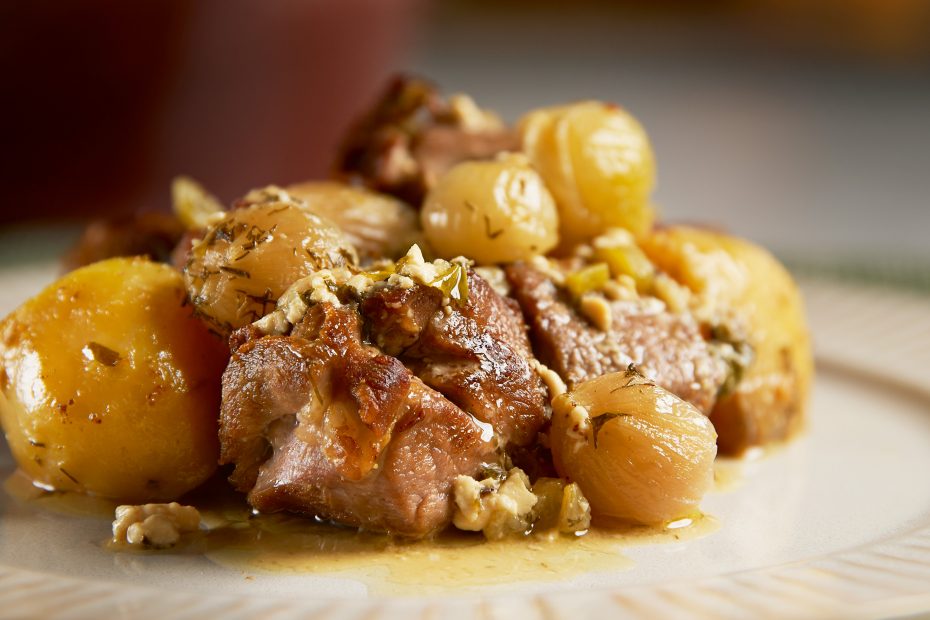 Clay-Baked Lamb
---
Slow, clay-baked lamb, long a tradition in the cuisine of Epirus, is one of the best ways to ensure a delicious, succulent end result and a lamb dish that will bring you back for more. The presentation, with the dish secured closed with a rope of dough you've got to crack open before serving, is dramatic and fun, making this a great recipe for festive occasions. It's a great Greek meat recipe from My Greek Table, season 4. Make sure to use Greek feta, such as Dodoni, a sponsor of My Greek Table, Season 4. I like to pair this with one of the great red wines of Greece, Agiorghitiko from Nemea.
Ingredients
2 ½

pounds

lean lamb

preferably leg, cut into 1 ½ to 2 inch cubes

6

medium potatoes

peeled and quartered

12

small white onions or shallots

peeled and whole

4 to 5

pickled peppers

3

garlic cloves

finely chopped

2

celery ribs

cut into ¼ inch pieces

Salt and freshly ground pepper

to taste

Strained fresh juice of 2 large lemons

2

tsp

dried rosemary

1

Tbsp

dried thyme

½

tsp

dried sage

⅓

cup

chopped fresh dill

½

cup

chopped fresh parsley

¼

pound

feta cheese

crumbled or chopped in chunks

½

cup

all purpose flour

¼

cup

water
Instructions
In a large clay or glass baking dish (clay is preferable), combine lamb, potatoes, onions, peppers, garlic cloves and celery and season with salt and pepper. Add lemon juice, olive oil, dried herbs, dill and parsley. Toss together so that all the ingredients are thoroughly combined. Top with feta and blend well.

Place flour in a small bowl and make a well in center. Add water and stir to form a dough. Knead for 3 to 5 minutes, until dough is smooth.

Roll out the dough into a long rope, about 2 inches thick, and press the rope. Place the lid on the baking dish and press the dough rope around the edges to seal it closed. on a lightly floured surface to a sheet large enough to fit securely over baking dish. Dampen the dough with a little water as you press it around the rim, to help it sick better.

Preheat oven to 275 F. Place baking dish on lowest rack in cold oven and turn heat to 275 F (135 C). Bake for 3 ½ to 4 hours. Turn off oven, open door, and allow dish to cool for at least 20 minutes before removing from oven. Place on a towel or meat and carefully cut open dough with a sharp knife. Serve hot.